Andrew Laming to quit politics at next federal election over 'appalling' behaviour towards women
Queensland MP allegedly took a photo on his mobile phone of a young woman's bottom when visiting a Brisbane business in 2019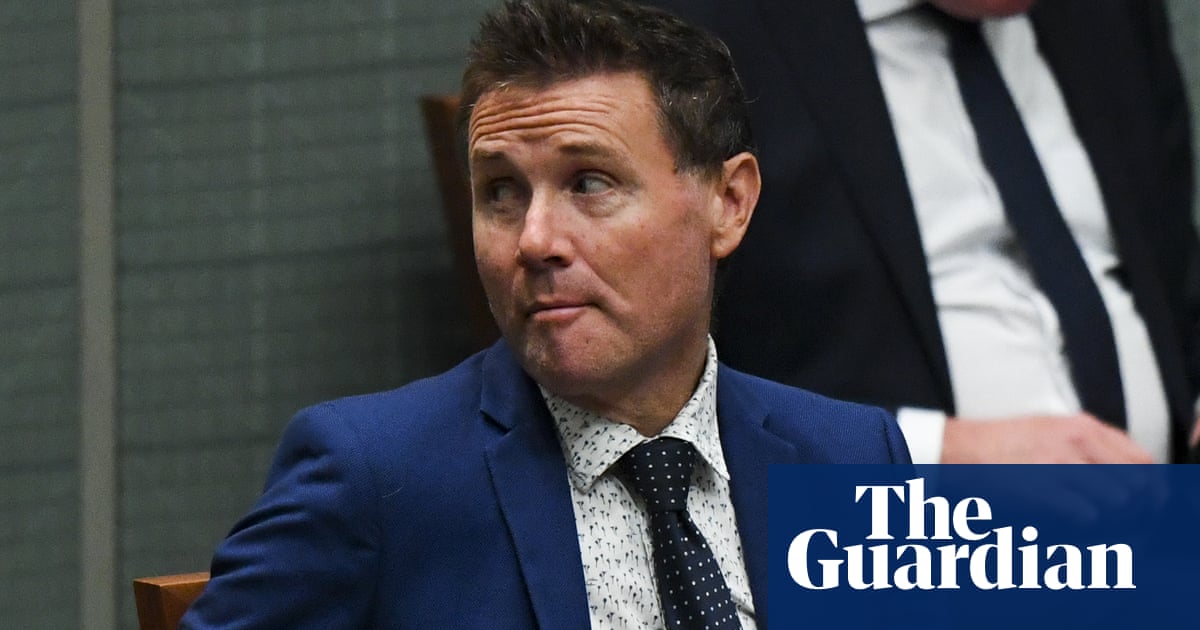 Federal Liberal MP Andrew Laming, who has been under pressure to quit politics because of his poor behaviour towards women, will not recontest the next election.
The treasurer, Josh Frydenberg, revealed on Sunday that following a discussion with the prime minister, Scott Morrison, Laming had advised he would be leaving parliament.
"The prime minister spoke to Andrew yesterday and made it very clear what was expected of our MPs and Andrew has reflected on that conversation with the prime minister and … he has decided not to contest the next election," Frydenberg told reporters.
"We will find a new candidate and that will be up to the preselectors. Andrew is also taking some time to seek some additional support and that is important given his behaviour has been unacceptable."
However, Frydenberg rejected suggestions that Laming should leave parliament immediately, a move that would result in the government losing its majority on the floor of the lower house.
"He was elected by representatives and constituents of his community to support them in the parliament – that is what the Coalition does."
Frydenberg said it would be up to the Liberal National party to decide whether Laming remained in the party but he believed the member for Bowman remained a "fit and proper" person to be an MP.
Laming's decision to quit politics came after two female government MPs pressured him to make the "right decision" earlier on Sunday, saying women would not accept his "outrageous" behaviour.
Laming had reportedly harassed female constituents and taken a covert photograph of a woman bending over, and had subsequently made light of the allegations.
"What he has been doing is completely outrageous and I'm very pleased that he is going to take some time off – clearly the stress must be getting to him," Katie Allen, the MP for the seat of Higgins, told the ABC's Insiders program.
"I really think he needs to have a pretty serious look about whether he will recontest the next general election," she said.
Henderson said there was "no excuse for bad behaviour" and it would be the "right decision" for Laming to quit politics at the next election after 17 years in parliament as the member for Bowman.
"I'm really appalled by Andrew's conduct," Henderson said. "It is our job to call this out, no matter what side of politics, and he has indicated that he is reconsidering his future and that's appropriate. I'm not comfortable with the conduct and I hope that Andrew makes the right decision."
On Saturday night, Laming said he would step down from all parliamentary roles and undergo additional counselling, after it was alleged he took a photograph on his mobile phone of a young woman's underwear.
The Nine Network reported that Laming took a photo on his mobile phone of then 26-year-old Brisbane woman Crystal White's bottom, when her underwear was showing, at a local business in 2019.
Laming reportedly deleted the photo when asked to by other staff members. "The photo was really inappropriate, especially when I was bent over," White told Nine on Saturday.
After Laming was accused of harassing other constituents last week, a colleague of White's sent a message to Laming on Facebook, asking if he remembered the 2019 incident.
According to Nine, Laming wrote back: "I do but it wasn't meant to be rude – I thought it was funny but your reaction was awkward."
Laming issued a statement late on Saturday after Morrison had earlier ordered him to take a private course to help him understand and be aware of his actions.
"I will step down from all parliamentary roles effective immediately and complete both the counselling courses I committed to; as well as additional clinical counselling, and ask for privacy while that is completed," Laming said.
"I will have more to say on my future as soon as that process is completed. I would like to thank my local community for their understanding during this time and assure them my electorate staff remain available to them."
Laming apologised in parliament on Thursday for allegedly harassing two women from his electorate over several years. He apologised for "the hurt and the distress that communication may have caused".
However, the MP later downplayed that apology in a post on Facebook.
"In this climate – I willingly apologise – I didn't even know what for at 4pm when I did it [in parliament]," Laming wrote, following it up with three tongue sticking out emojis and a heart eyes emoji.
His actions led to speculation the MP was confident his valuable vote in the lower house would spare him further punishment. The Morrison government holds a one-seat majority in the House of Representatives.
In response to a question about whether Laming was fit for parliament, Morrison has said that was up to voters. The prime minister added Laming's constituents had been making that judgment in the seat of Bowman "for many, many years".
"I want to see behaviour change and we've all got a job to do with that, and he certainly has a job to do on this," Morrison told reporters in Sydney on Saturday
The prime minister said he had no control over Laming's preselection as he wasn't a member of Queensland's Liberal National party.
The episode is the latest in a crisis which has engulfed the Morrison government and triggered a wider debate about sexual discrimination, harassment and abuse.
The prime minister had been seeking a circuit-breaker after being criticised for his responses to the ongoing conversation sparked by former Liberal staffer Brittany Higgins alleging she was raped by a colleague at parliament in 2019.
The deputy prime minister and federal Nationals leader, Michael McCormack, said men needed to be more respectful to women, not only in public, but also in private.
"Perhaps when they're just talking man on man, bloke to bloke, mate to mate, they need to watch what they say, and they don't need that lewd comment about a female, they don't need to tell those jokes," he said on Saturday.
McCormack said the Nationals had agreed to undergo empathy training in relation to the treatment of women. He said his MPs were ready "to sit around for an hour or so" to learn from an expert.
"If we can learn from an expert … and actually learn a few tips on how to not only be better ourselves, but how to call out others for it, then I think that's a good thing," the deputy prime minister said.
Morrison said everyone needed to change their behaviour but he didn't want the current crisis to divide Australians. "I don't want to see gender become a defining thing in this nation. I don't want this to be a women-versus-men, men-versus-women issue," he said.