AFL 2022 round 9 LIVE updates: Cats hold sway over Saints, Power too good for Kangaroos
Follow along for all the major moments and reactions from the AFL on this Saturday in round nine.
It's remarkable.
Another boundary throw in, in the Saints' forward-50, and Ryder flicks it over his head to Jack Billings running past, and he goals on his left.
The Saints lead by three points!
They've kicked 5.5 from stoppages, the Saints.
And now it's another! Mason Wood has goaled. They won the ball from the centre square, and got the ball in deep inside-50, and the smalls went to work. Wood found himself in space, swung onto his left and kicked the Saints' fifth straight.
Saints 10.6 (66), Cats 8.9 (57)
He's had little impact today, but Cooper Sharman has kicked an important goal from the boudnary to reduce the deficit to nine points.
The Saints need to turn these two goals into a bit of momentum here.
And they have another! They've worked it beautifully end to end, Membrey got it in deep to King one-on-one, who brought the ball to ground, handballed to Billings, who handballed to Ben Long, who kicked the goal. Now it's three points!
Saints 8.6 (54), Cats 8.9 (57)
Zak Jones has come to the party.
A brilliant stoppage goal from a boundary throw-in in the Saints' forward 50.
Rowan Marshall took it out of the ruck against Stanley and handballed to Jones coming past, who snapped beautifully on his right.
Back to 16 points.
Saints 6.6 (42), Cats 8.9 (57)
Mitch Duncan just had a long shot at goal from 50m out, but missed slightly right.
It's now a game-high margin of 22 points.
It's getting desperate now. The Saints really need the next goal to remain in touch with the Cats.
One of the plays of the day, despite it being a bit messy.
Tuohy got the ball on the wing and took a bounce, before trying to handball to Jeremy Cameron. Cameron couldn't take it cleanly, and the ball was contested but spilled back out to Tuohy, who ran inside-50, shifted onto his right boot and goaled on the run.
Terrific play, and big response from the Cats.
And now, Tom Hawkins has marked one-on-one and is lining up straight in front. He comes in from 50m, and kicks truly. Two quick goals.
Saints 5.5 (35), Cats 8.8 (56)
An important goal to open the third term.
Gresham was forced to tread water at halfback and wait for his teammates to get in a more damaging space, and once the ball got out the open side, the Saints were out, and it was Membrey out the back, who was able to mark in the pocket and then goal from the set shot.
And now Max King has marked on the lead from 50m. He can put the side within four points, but he pushes it left.
Saints 5.5 (35), Cats 6.8 (44)
The Saints have the first inside-50 of the third term, but it doesn't lead to a score.
We've only been going 90 seconds in this third quarter, but the ground appears to be opening up a bit more. Both sides are set up pretty well behind the ball, however.
Saints 4.4 (28), Cats 6.8 (44)
Teal clad teams are making headlines Australia wide in the lead up to the election, and the AFL's teal-hued side Port Adelaide have been making plenty of noise themselves over the last month as they bounce back from their horror start to 2022.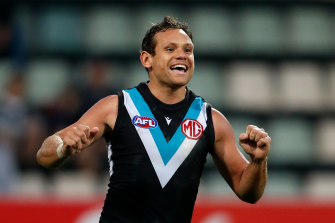 Their 69-point victory, 17.13 (115) to 6.10 (46), over a callow North Melbourne at Tasmania's Blundstone Arena makes it four wins on the spin for Ken Hinkley's team and will give them further hope that they can force their way into finals reckoning as their season-long campaign, compared to the Canberra-focused one which ends in seven days, progressively grinds into gear.
READ MORE HERE
With Dustin Martin producing moments of magic for Richmond in an entertaining clash against Hawthorn, the Tigers' recent surge continued with a 23-point win at the MCG on Saturday.
Placed under significant pressure when trailing the Hawks by 25-points early in the second term, the Tigers responded magnificently to record a third consecutive win.
It is the first time in 2022 the Tigers have been in front on the win-loss ledger and while their recent wins have come against sides unlikely to feature in September, their improvement after a slow start to the season has been impressive.
They are playing in a manner reminiscent of the furious style that saw them claim three flags in four seasons between 2017 and 2020, which is not surprising given they fielded 21 premiership players.
READ MORE HERE
This hasn't been pretty to watch, for each side has regularly been sending an extra forward to stoppages, meaning there was a free defender behind the ball.
This led to turnovers and intercepts, and the game was played between the two 50m arcs. The Saints had particularly trouble advancing the ball through centre half-forward, and their plans weren't helped when Jack Higgins was subbed off with concussion.
Higgins was concussed for the second time in five weeks, and was removed from the game deep into the second quarter. He had also been concussed against Richmond last month.
He will miss next week's trip to Adelaide to face the Crows, but that's a minor consideration considering Higgins' history of two rounds of brain surgery in 2019.
Ruckman Rhys Stanley returned after an ankle injury but spent 15 minutes off in the first term have the ankle restrapped. His presence was crucial, for the Saints had loaded up with height.
Ruckmen Paddy Ryder and Rowan Marshall alternated up forward alongside Max King and Tim Membrey, but it was the Cats with the edge at half-time.
Mark O'Connor, Tom Stewart and Isaac Smith were busy, but Jeremy Cameron - so accurate against GWS last week - lacked his typical radar. We are hoping this game opens up after the break. The Saints need to use their pace, if they are to avoid a third-straight defeat, which will put heat on coach Brett Ratten.