Golden Slipper winner Stay Inside named to reflect lockdown year
Owner Craig Pickford still can't believe his luck with Stay Inside following the colt's Golden Slipper demolition job on Saturday.
Normal text sizeLarger text sizeVery large text size
Craig Pickford can't believe how lucky he has been with Golden Slipper winner Stay Inside, whom he named as a product of living with COVID-19.
Pickford took the Golden Slipper back to the shire on Saturday night, but he nearly didn't buy the Extreme Choice colt.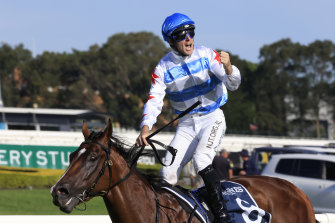 "Rick Connolly, who bought him, rang me and said 'you should take a share in him'," Pickford said. "I did, then a couple of months later, Michael [Freedman] rang and said 'do you want some more' because they couldn't sell him.
"The next time I heard from them they said we need to name him and said can you do it. All I could think of was the coronavirus which was happening, so I just went with Stay Inside because that's what we had been doing for so long."
Michael Freedman indicated Stay Inside would go for a spell after his Golden Slipper victory.
"We will have a chat about it in the next couple of days but it is only his second prep and I feel he deserves a break," Freedman said.
"He has won the big one and we can focus on getting ready for the spring."
Shadow Hero comes back to Newnham
Mark Newnham got the good news that Shadow Hero would return to his stable from Hong Kong as he was preparing for his biggest day as a trainer with Vinery Stakes favourite Harmony Rose and Tancred Stakes contender Spirit Ridge.
A dual group 1 winner for Newnham, Shadow Hero never settled into Hong Kong and after his Derby defeat there last week the decision was taken to bring him home.
"He is coming back to me and The Irishman will be his replacement up in Hong Kong to give his owner another shot at the Derby," Newnham said. "The Irishman will run in the Carbine Club before going over.
"Shadow Hero will come back and have a spell before getting ready for the spring and hopefully he can find his form back here."
Harmony Rose is likely to start at a short price in the Vinery after her third in the Randwick Guineas.
"The form stood up on the weekend through Mo'unga and Lion's Roar and she is looking for the 2000m now," Newnham said.
Rawiller, Berry out for The Championships
There are plenty of good rides up for grabs during The Championships after the sidelining of Nash Rawiller and Tommy Berry on Golden Slipper day.
Rawiller, who started another suspension on Sunday, copped two further careless riding bans on Saturday. He got seven meetings for causing interference in the Golden Slipper at the 700m mark on Four Moves Ahead after he was hit with six meetings for his ride on Avilius in the George Ryder Stakes, where he forced out at the 200m mark.
Joe Pride has not decided on a replacement for Rawiller, who won't return until May, on Galaxy winner Eduardo in the TJ Smith.
"I don't think I'm going to have trouble finding someone," Pride said.
Berry was given a two-week ban and $5000 fine for breaching the whip rules on Mo'unga in the slugfest finish to the Rosehill Guineas, where James McDonald on Sky Lab was fined $4000 for exceeding the permitted whip strikes before the 100m mark.
Berry told stewards he got carried away as he was seven strikes over the limit before the closing stages.
Handicappers got Galaxy weights wrong
Racing NSW handicappers showed no feel for the betting landscape when they dropped the scale of the weights by a kilogram for The Galaxy this week.
The addition of Nature Strip to the nominations saw the handicappers reset the scale, but the problem with that was punters had been investing pre-post from the time the weights were released a week earlier.
Nature Strip, which was considered an extended entry, should have been put in using the existing scale, which would have meant he get 60.5kg on his benchmark.
By dropping the weight the horses on the limit were disadvantaged by being closer to topweight and eventual winner Eduardo.
Remarkably, Nature Strip's benchmark was dropped two points for his narrow defeat by Eduardo in the Challenge Stakes, where the pair smashed the Randwick 1000m track record.
When the entries were released for The Galaxy, Nature Strip's benchmark was listed as 'N/A' on the Racing NSW website. His drop of two points was incredible when you consider Bella Vella only dropped a point for running third in the Challenge despite being more than three lengths from Nature Strip.
Sargent's Tulloch plan
John Sargent has been planning to follow the pathway to Australian Derby success with Favreau since the beginning of his preparation.
Favreau will line up at Rosehill for Saturday's Tulloch Stakes, which has been won by the Derby winner for the past four years.
"He is a stayer and he needs that sort of trip to be at his best and will be even better over the 2400m the following week," Sargent said. "He has been really good winning at Canberra and Kembla and we did this deliberately to stay away from the better ones until he gets to his trip. He has just kept on improving with every run this prep. Even though we have been forced to wait another week I think it has helped him to have the miles in his legs."
Sports, results and expert commentary delivered straight to your inbox. Sign up to the Herald's weekday newsletter here and The Age's weekly newsletter here.
Racing writer for The Sydney Morning Herald
Most Viewed in Sport