Happy Holi 2021: These funny memes, wishes and messages about Holi will make you laugh out loud
Oh, how fun it is to splash colours and pichkaris all around! After all, the festival of colours, Holi is finally here! Laden with happiness, love and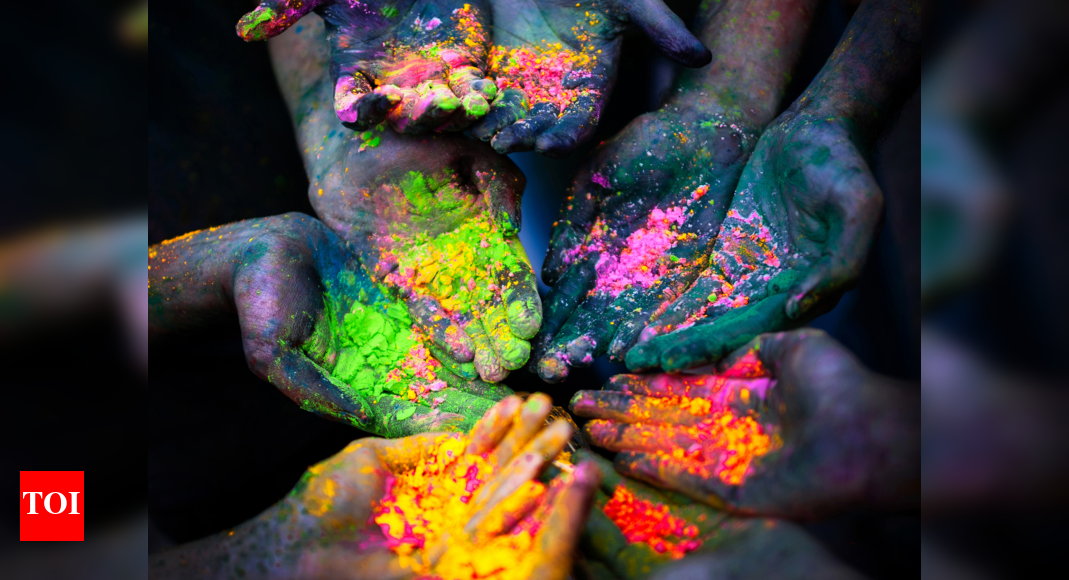 Oh, how fun it is to splash colours and pichkaris all around! After all, the festival of colours, Holi is finally here! Laden with happiness, love and cheer, this festival is a top favourite among Indians and people of other countries as well. It marks the beginning of the Spring and harvest season. To mark the festival, people dress up, decorate their homes with flowers and invite everyone to play Holi. This year, because of the surge of coronavirus, Holi celebrations will be held in a different manner, with restrictions being imposed on large gatherings. However, to keep the atmosphere elated and celebratory, here are some funny memes and messages about Holi that'll make you laugh and cheer you up! Aapne dil ka haal batana chod diya, humne bhi gehrai mein jaana chod diya. Holi se pehle hi aapne nahana chod diya? Rang barse bhige chunar wali, rang barse o rang barse bhige chunar wali..rang barse, are rang barse bhige chunar wali..re! Ab ghar jao nahi to jukham lag jayega. Chadenge jab pyare rang, ek meri dosti ka rang bhi chadhana. Lagne lagenge tumhe suhane sare rang, Aur meri dosti ka rang chamkega hurdum tumhare sang. Holi Mubarak!
#holi2021Someone: Bhai sirf teeka lagaoga.Me After 5min: https://t.co/rtZD1FvA6F

— sarcasm_villaa (@Itsmemebruh1) 1616096525000
(Credit: Twitter, @Itsmemebruh1)
*Girls in Holi* Expectations. Reality https://t.co/OTFnaDRq47

— Sarcastic_Engineer (@Oey_Shivansh) 1616736773000
(Credit: Twitter, @Oey_Shivansh)
Holi is fun when you have your dearest friends and family members to celebrate. A very Happy Holi to you buddy!!
Happy Holi 2021 from my family to you and your family. Hope you have a colourful day and a beautiful life.
Water balloons, water pistols, amazing songs, thandai, and delicious gujiyas are the right way to celebrate Holi.
Pichkari ki dhaar, gulaal ki bauchhar, Apnon ka pyaar, yahi hai yaaron Holi ka tyohar. Happy Holi!!
( During Holi )Everybody Each Other : https://t.co/5FxIxx5lce

— Vk Memes (@Memesbyvishal) 1616466027000
(Credit: Twitter, @Memesbyvishal) (Credit: Instagram, harsh_humour)
Kha ke gujiya, pi ke bhang, Laga ke thoda sa rang, Bajake dholak aur mridang, Khele Holi hum tere sang. Holi ki dheron shubh kamnayein.
Bright colours, water balloons, lavish gujiyas and melodious songs are the ingredients of perfect Holi. Wish you a very happy and wonderful Holi.
May God gift you all the colours of life, colours of joy, colours of happiness, colours of friendship, colours of love and all other colours you want to paint in your life. Happy Holi.
I wish that your Holi is blessed with vibrant splashes of water colours…. lots of fun and blast with your near and dear ones…. To make it the most special and most colourful festival of all times for you…. Wishing you a very Happy and zealous Holi my dear!!!
Open image please #Holimemes https://t.co/hN7EpJKMoU

— professor (@_Kalpesh_lohar_) 1616862479000
(Credit: Twitter, @_Kaplesh_lohar_)
Don't worry, we still love you! @TheAaryanKartik ..#holimemes #happyholi #holi2020 #kartikaryan #Memes… https://t.co/ab2e1oXWhb

— SocialKraft (@social_kraft) 1583752787000
(Credit: Twitter, @social_kraft)
Rango ka tyohaar aaya hai, Saath apne khushiyan laya hai, Isse pehle koi rang de aapko, Humne subh kamnaon ka rang, sabse pehle bhijwaya hai. Happy Holi.
Let us make this festival a way to express our love using beautiful colours and water balloons. Let us get drenched in our friendship and make this Holi the most memorable for all of us, Happy Holi.
May the year ahead be prosperous and happy and every day as colourful as the day of Holi.
Gul ne gulshan se gulfam bheja hai, Sitaro ne aasman se salaam bheja hai, Mubaraq ho aapko holi ka tyohar, Humne dil se yeh paigam bheja hai.
Pichkari ki Dhar, Gulal ki bauchar, Apno ka pyar, Yahi hai yaaron holi ka tyohar. Holi Mubarak!
Holi aayi satrangi rango ki bouchar laayi, Dher saari mithai aur mitha mitha pyar laayi, Holi Mubarak!
Aapne dil ka haal batana chod diya, humne bhi gehrai mein jaana chod diya. Holi se pehle hi aapne nahana chod diya?
(Credit: Instagram, @official_meme_world._)
Holi par aapko 'Vivah' ki wife, 'Dhoom' ki bike, 'Don' ki life, 'Krrish' ka josh, 'Babul' ka dular aur 'Umravjaan' ka pyar mile.
May all the days of the year be as cheerful and colourful as the day of Holi. Happy Holi!
Sher kabhi chupkar shikar nahi karte, buzdil kabhi khulkar waar nahi karte, aur hum wo hain jo "HAPPY-Holi" kehne ke liye 11 ya 12 tarikh ka intzar nahi karte! A true and caring relation doesn't have to speak loud, a soft text is just enough to express the heartiest feelings. Enjoy the festival of Holi with a lot of fun! (Credit: Instagram, oyee_memer) Lal, gulabi, neela, pila hathon me liya samet, Holi ke din rangenge sajni, kar ke meethi bhent Holi ki hardik badhai!