Petition begging journalists to stop interviewing Will and Jada Smith now has 15000 signatures
Will and Jada Pinkett Smith's relationship has been making headlines recently – but thousands of people are calling for this to stop.
Will and Jada Pinkett Smith's relationship has been making headlines recently – but thousands of people are calling for this to stop.
Taking matters into their own hands, a Change.org petition was made urging journalists not to interview the A-list couple about their relationship. It has now gone viral with nearly 15,000 signatures - the target number of signatures when it was created.
The petition, created by Dexter Morales and entitled "Stop interviewing Will and Jada smith!", perhaps has something to do with moments of oversharing from the couple, which have included many revelations about their marriage, including relationships with other people.
"Let's go!!! We need to end this madness," someone wrote on the petition.
"Half the s*** they be saying should not be said my guy," another added.
A third wrote: "I've learned more about this family in the past three months than I have in the last 10 years."
"Everything I learn about this couple is against my will. Free us," a fourth person commented.
In an interview with Oprah Winfrey for Apple TV+'s The Oprah Conversation last month, Will said that their marriage reached a peak in 2011 during Jada's 40th birthday and they "realised that it was a fantasy illusion that we could make each other happy."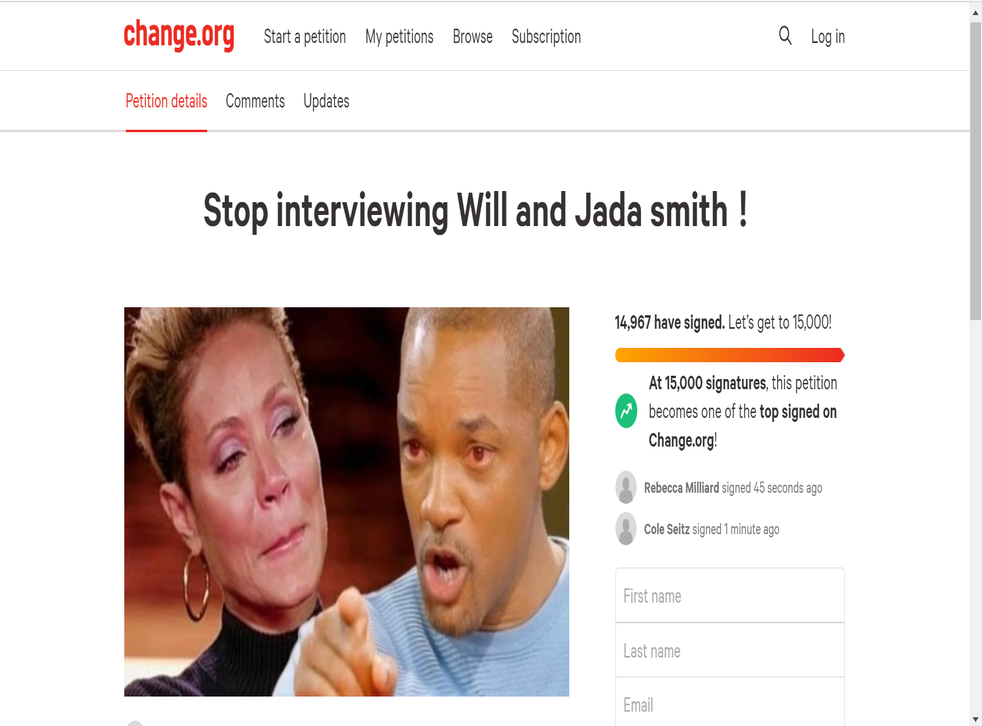 He also explained that, after the two went their separate ways for some time, they were going to revisit the "relationship already happy, versus demanding that the other person fill our empty cup."
Sign up to our new free Indy100 weekly newsletter
But in their time away from the relationship, the pair had moments that went against the sanctity of marriage.
In July 2020, Jada sat down with Will for Red Table Talk to discuss her relationship or "entanglement" with R&B singer August Alsina.
She said the relationship with Alsina began a few years prior when she and Will were "going through a difficult time" and broke up. The couple also alluded to Will having a relationship outside of the marriage, but they didn't go too much into detail.
Meanwhile, in November, Will told GQ that "Jada never believed in [a] conventional marriage...Jada had family members that had an unconventional relationship."
These admissions about their relationship don't stop here. On other episodes of Red Table Talk, they've talked about Jada's close-knit friendship with Tupac (which he admitted he was jealous over) to their sex life.
In due time, we shall see if the petition has any effect on the Smiths' sharing their business.
At the time of writing, the petition has 14,988 signatures out of the target goal of 15,000.