PSG vs. Lens result: Messi, Ligue 1 leaders escape again with late goal
Paris Saint-Germain needed another late goal, scoring in stoppage time to salvage a draw at Lens. It's the second straight Ligue 1 draw for PSG.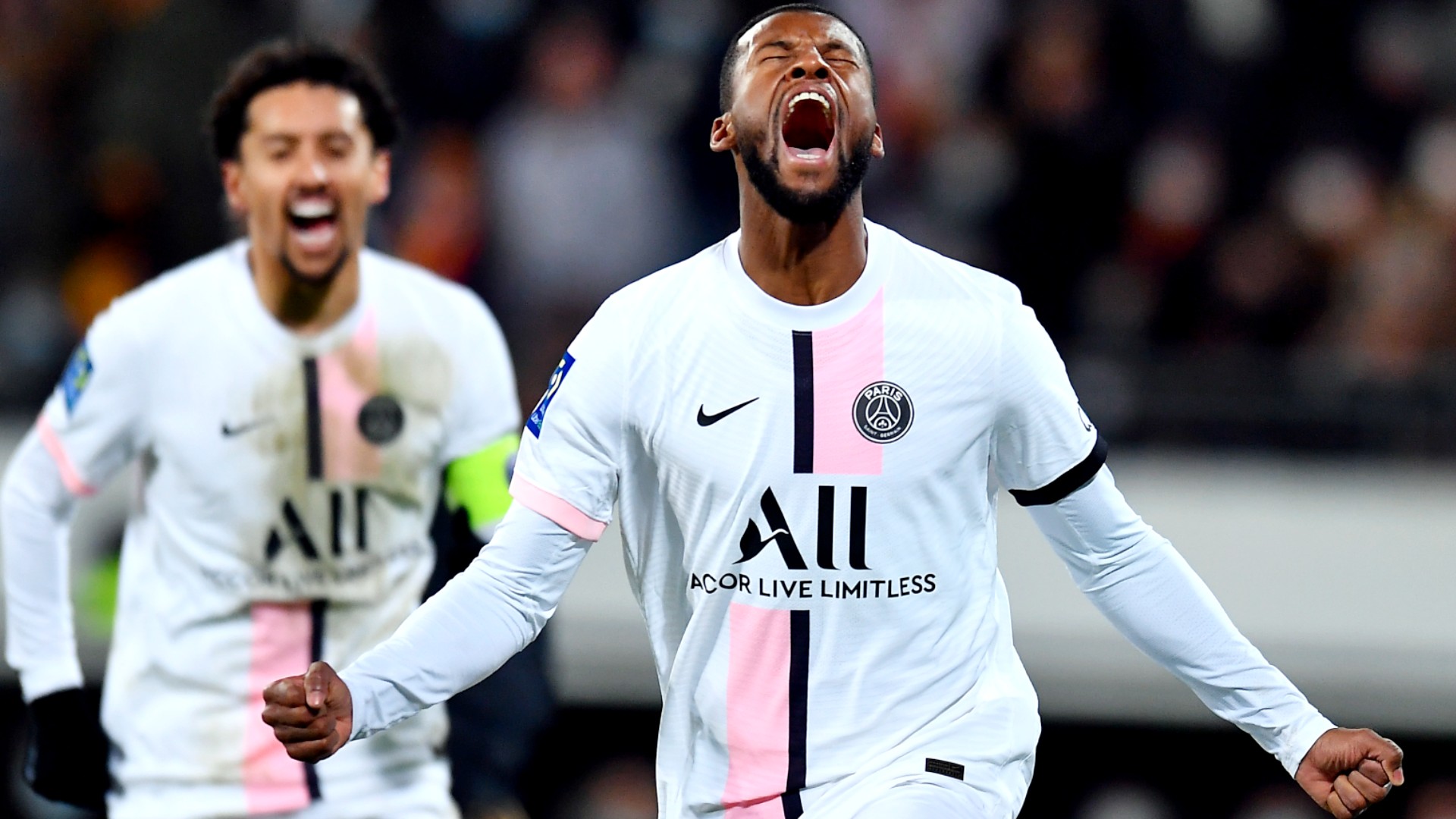 Paris Saint-Germain did it again. The Ligue 1 leaders were a couple of minutes away from only their second loss of the league season, but two second-half subs saved the day as PSG escaped with a 1-1 draw at Lens.
Down 1-0 in second-half stoppage time, Kylian Mbappe sent in a pinpoint cross that found the head of Georginio Wijnaldum, who applied the finish. Moments later Lionel Messi had a chance to grab all three points for PSG, but his free kick missed the top right corner. 
A PSG winner would have been unjust for a Lens team which played a good game and arguably deserved a first-half goal which never came, as PSG goalkeeper Keylor Navas made several stops. But Navas was at fault on the 62nd-minute knuckling shot from Seko Fofana, which went right through the Costa Rican's hands to make it 1-0. Lens could have added to that lead just seven minutes later, but Navas was saved by the right post.
MORE: Why Messi's Ballon d'Or win was a Lewandowski snub
PSG brought on a trio of subs with 20 minutes to go, including Mbappe and Wijnaldum, but they struggled to threaten Lens. Mbappe had a look just one minute after coming on, but Lens goalkeeper Jean-Louis Leca was up to the challenge. Leca had also stopped a point-blank Angel Di Maria shot just before halftime in the only other big chance for PSG.
Just days after winning his record seventh Ballon d'Or, Messi played the full match and struck the outside of the post in the first half. He was on the ground and expecting a foul to be called on the play that led to the Lens goal. But the home team did not stop play for Messi and Fofana followed up with the goal.
The point allows PSG (13W-1L-3D) to add to its league-leading 42 points, 13 points better than second-place Marseille which lost its match on the weekend and failed to narrow the gap. PSG will be in action again on Tuesday to close out the Champions League group stage at home to Club Brugge. 
[embedded content]
Lens vs. PSG final score
  1H 2H Final Lens 0 1 1   PSG 0 1 1  
Goals:LEN — Seko Fofana — 62nd min.PSG — Georginio Wijnaldum (Kylian Mbappe) — 92nd min.
(All times Eastern)
Final: Lens 1, PSG 1
95th min.: Messi curls it, but he can't find the top right corner. And that's the game.
94th min.: Free kick for PSG inside the "D" just outside the Lens box and Messi is taking this.
92nd min.: PSG scores! A great cross by Kylian Mbappe on the left and Wijnaldum heads home. It was a pinpoint cross.
90th min.: Four minutes of stoppage time. PSG can't really muster any response. Lens still has plenty of energy left. Yellow card for Idriss Gueye for a foul on Seko Fofana, which kills some more time.
80th min.: SUBS - Lens brings on Massadio Haidara for the injured Kalimuendo and Yannick Cahuzac on for Da Costa. Meanwhile, Nuno Mendes replaces Juan Bernat at left back for PSG.
78th min.: Lens come close again! Da Costa feeds Frankowski in the box and he pokes a shot that's stopped and he nearly got to the rebound, too. It feels like PSG is close to taking a knockout blow.
Regardless of result, this is not good enough & has not been good enough for some time now. Quite simply, PSG stand little to no chance of achieving their aims while this unhappy marriage with Pochettino remains. #RCLPSG

— Jonathan Johnson (@Jon_LeGossip) December 4, 2021
71st min.: This game is getting good. PSG get a chance on the other end and Leca comes up with the save on Mbappe.
70th min.: SUBS - Mauricio Pochettino has seen enough. Mbappe on for Icardi at forward and two changes in midfield: Wijnaldum and Idrissa Gueye on for Danilo and Paredes.
69th min.: Lens almost get a second! On a 4-on-2 breakaway it's David Pereira Da Costa with the shot that hits the far post and bounces right into the hands of Keylor Navas.
62nd min.: Goal for Lens! Seko Fofana with the blast from distance and PSG goalkeeper Keylor Navas whiffs on the save and the ball goes in! Lionel Messi was on the ground during the play and he wanted a whistle for what he thought was a foul, but the Lens defender won the ball cleanly off Messi.
54th min.: SUB - Lens attacker Gael Kakuta pulled something and has to come out. Florian Sotoca comes on.
51st min.:  What a chance for Lens! A Clauss cross into the PSG box is not cleared, and it falls to Lens center forward Arnaud Kalimuendo, whose volley goes wide with defenders closing him down. The PSG loanee misfired — that should have been on goal.
50th min.: There's that individual quality that PSG presents: Angel Di Maria with a curling effort that goes just wide with the 'keeper frozen on his line.