Watford v Manchester City: Premier League – live!
Minute-by-minute report: A Sterling-Silva service delivered all three points to the champions, who take advantage of Chelsea's earlier defeat to go top. Scott Murray was watching.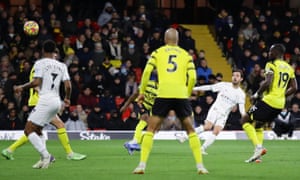 Key events
Show
7.23pm

GMT

19:23

FULL TIME: Watford 1-3 Manchester City

7.04pm

GMT

19:04

GOAL! Watford 1-3 Manchester City (Hernandez 74)

6.53pm

GMT

18:53

GOAL! Watford 0-3 Manchester City (Silva 63)

6.18pm

GMT

18:18

HALF TIME: Watford 0-2 Manchester City

6.02pm

GMT

18:02

GOAL! Watford 0-2 Manchester City (Silva 31)

5.35pm

GMT

17:35

GOAL! Watford 0-1 Manchester City (Sterling 4)

4.34pm

GMT

16:34

The teams
Live feed
Show
7.52pm GMT19:52
David Hytner was at Vicarage Road to see the champions get back to the top. His report has landed, and here it is. Get clicking, good people. Thanks for reading this MBM. Nighty night!
7.37pm GMT19:37
The sensational Bernardo Silva talks to Sky. "It was a very good job in the first half especially. We created chances and didn't allow them to counter-attack. We scored two but should have scored more. At 3-0 we tried to control the game, but the last few minutes were not as good. We're very happy, top of the league. It's always better to be top than second or third or fourth, but it's still the beginning, not even halfway through, and it's so close. Lots of games to play, though it's better to be in our position. It's going to be tough for us and for Liverpool and Chelsea. It's the most competitive league in the world, and we will do our best. At the end of the season we want to celebrate some titles."
7.25pm GMT19:25
Not a good day for Chelsea, then ...
... while Watford are suddenly in Newcastle's sights.
7.23pm GMT19:23
FULL TIME: Watford 1-3 Manchester City
The champions return to the top of the Premier League, having secured the three points at Vicarage Road pretty much from the get-go. Watford will be happy to have kept the score down, and to have improved significantly in the second half.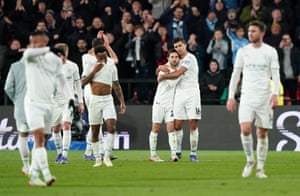 Updated at 7.59pm GMT
7.22pm GMT19:22
90 min +4: One corner leads to another, then Ngakia steers a shot well wide right from the edge of the D.
7.22pm GMT19:22
90 min +3: Hernandez has another dig from a tight angle on the right. De Bruyne deflects it out for a corner. Chance for another late consolation.
Updated at 7.32pm GMT
7.21pm GMT19:21
90 min +2: On Sky, Alan Smith names Raheem Sterling as man of the match. He's been magnificent ... though Bernardo Silva might have been even better.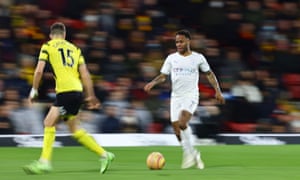 Updated at 7.41pm GMT
7.18pm GMT19:18
90 min: There will be four extra minutes.
7.18pm GMT19:18
89 min: A loose ball to the right of the Watford D. De Bruyne opens his body and sends a powerful rising sidefoot towards the top right. The ball sails an inch over the bar. That would have been a stunner.
7.17pm GMT19:17
88 min: Jesus is fine. He trots back on and quickly gets back up to speed, bustling away to a chorus of boos. He then runs the ball out of play, much to the home support's amusement.
7.16pm GMT19:16
87 min: Jesus is back up but whether he can continue isn't yet clear. He limps off the pitch slowly. City have made all of their subs.
7.15pm GMT19:15
86 min: Jesus seems in a bit of pain. He's grimacing quite a lot. The trainer is on, and Pep Guardiola is not happy, deep in discussion with the fourth official.
7.14pm GMT19:14
85 min: Jesus spins Cathcart, who responds by taking one for the team. A cynical clip on the heel, and a yellow card.
7.12pm GMT19:12
83 min: Ngakia has the chance to release Dennis down the left, but hangs onto the ball too long, and when he eventually makes the pass, the flag goes up for offside.
7.11pm GMT19:11
82 min: The corner leads to a half-chance for Silva, the ball dropping to him in a crowded six-yard box. But he's swarmed and the shot is blocked. No hat-trick. Not yet, anyway.
7.10pm GMT19:10
81 min: City take the sting out of the game with some sterile possession. But then suddenly they step up the pace, and Sterling dribbles into the box from the left. His shot is deflected out for another corner.
7.07pm GMT19:07
79 min: Sterling drifts in from the left and looks for the top right. Always high and wide.
7.07pm GMT19:07
78 min: But you know what, it could easily have been two for Watford! Hernandez is sent scampering at full pace down the right. He crosses low and hard. King meets it first time, sweeping wide of the right-hand post. Not far away. Had that been on target - and it wasn't the easiest of chances - it's not clear that Ederson was getting to it.
7.05pm GMT19:05
77 min: That's almost certainly too little, too late for Watford, but it was lovely play by Hernandez, and the hosts deserve something for a staunch second-half display against opponents who have at times threatened to overrun them.
7.04pm GMT19:04
75 min: Jesus comes on for Foden.
7.04pm GMT19:04
GOAL! Watford 1-3 Manchester City (Hernandez 74)
Out of nothing! Hernandez takes up possession on the right-hand corner of the City box and creams a fine shot across Ederson and off the base of the left-hand post. So unlucky. But he doesn't drop his head, and as the rebound flies across the face of goal, he sticks out a leg to guide it back towards the net. Ederson can't keep it out, and that's superb from Hernandez.
Updated at 7.10pm GMT
7.01pm GMT19:01
73 min: Kucka has a belt from 25 yards. It's on target and heading into the bottom right, but not at enough pace to fox Ederson.
7.01pm GMT19:01
71 min: Ngakia comes on for Rose.
7.00pm GMT19:00
70 min: Foden sends it into the mixer. Cathcart heads over. Mahrez takes the latest City corner. Watford half clear, but City come back at them, Mahrez tiptoeing along the byline to the right of goal. His cross-cum-shot is blocked and loops high into the air. Laporte waits an age for it to come down, shapes to volley, then dummies to make more space. His eventual effort is bravely saved at close range by Bachmann, who requires a little treatment after taking one in his special area.
6.57pm GMT18:57
69 min: Sterling drops a shoulder to cut infield from the left. He's crudely brought down in full flight by Dennis, who has the good grace to look sheepish. Free kick.
6.56pm GMT18:56
67 min: Grealish embarked on a long slow-motion dribble down the inside-left channel before Silva's goal. He was forced to check back, but had attracted quite a few defenders, and that surely contributed to Silva then being found in acres on the other flank. That was his penultimate act of the evening; his last is a shot from the right-hand side of the D that's deflected over the bar. He's replaced by De Bruyne, while Gundogan makes way for Mahrez.
6.53pm GMT18:53
65 min: Dennis crosses from the right. King is lurking in the middle, but Ederson is on point and down quickly to smother.
6.53pm GMT18:53
GOAL! Watford 0-3 Manchester City (Silva 63)
This is a peach. Silva, out on the right, waltzes into the box, drops a shoulder to send Rose off for the paper, and passes a curling shot into the top-left corner. That is such a stylish goal, and if we didn't know it already, this is over.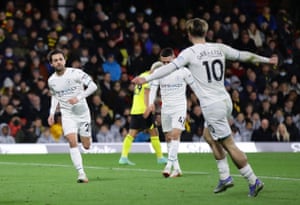 Updated at 6.57pm GMT
6.51pm GMT18:51
62 min: City go up the other end and nearly make it three, Sterling racing down the right before rolling infield for Gundogan, who sends a rising shot towards the top-left corner ... but just too high.
6.50pm GMT18:50
61 min: Some good work by Pedro down the right. He earns a corner which is taken quickly, and taken short. City are a little slow to react, Pedro eventually whipping a low ball into the mixer. It's shinned away by Laporte.
6.48pm GMT18:48
60 min: Foden powers into the box from the left and sends a fierce low drive off the base of the post and out for a corner ... as Bachman got a little touch to that. Laporte meets the corner on the penalty spot, swivelling and whipping a shot over the bar. Decent effort, that.
6.47pm GMT18:47
58 min: A little bit of space for Sissoko, 25 yards out. The crowd urge him to have a pop. He bows to their wishes, but drags a poor effort well wide left.
6.46pm GMT18:46
57 min: Dennis is tapped on the shin by Rodri as he dribbles into the City box from the left. He goes over, belatedly, and demands a penalty. He's not getting one. Last season, perhaps.
6.44pm GMT18:44
55 min: Cancelo creams a diagonal ball towards Sterling on the right. Sterling can't reach it. Goal kick.
6.42pm GMT18:42
53 min: Grealish shapes to shoot on the edge of the box but dummies and rolls forward for Sterling, free for a second on the penalty spot. Sterling takes too much time and his eventual effort is blocked and Cathcart clips clear.
6.41pm GMT18:41
51 min: Cancelo miscontrols and slips, allowing Dennis to make off with the ball down the right. But upon reaching the box he runs into trouble, and City break up the other end. Sterling skitters down the right, moves infield, and bashes a shot straight at Bachmann. This is not going to end 0-2. It just can't.
6.39pm GMT18:39
50 min: Sterling tries to cross from the right. Blocked. The ball drops back towards him, so, brimming with confidence against the team he loves to play against, he creams a volley towards the bottom left. Cathcart sticks out a leg to deflect out for a corner, which is just as well for Watford, as that was heading in. Nothing much occurs at the corner.
6.37pm GMT18:37
48 min: Watford may as well go for it, and Dennis and Pedro make their presence felt on the edge of the City box. They earn a rare corner, from which Pedro heads over harmlessly, but that's better from the home side, who would at least test the champions resolve should they somehow get the next goal.
6.36pm GMT18:36
47 min: Sterling and Silva combine again, down the right to earn the first corner of the second half. It's played short and worked backwards, then Gundogan slips Silva clear down the inside right. He fizzes a low ball across the face of goal. Grealish can't meet it at the far post, and the flag goes up for offside anyway.
6.34pm GMT18:34
Watford get the second half underway. They've made two changes, replacing Cleverley and Louza with Hernandez and Kucka. Meanwhile Simon Johnston has been perusing the scoresheet, with hilarious consequences: "Sterling Silva? Who writes this stuff?" He's here all week, ladies and gents. Try the pie and Bovril.
6.20pm GMT18:20
Half-time entertainment. This is lovely.
6.18pm GMT18:18
HALF TIME: Watford 0-2 Manchester City
The half-time whistle goes. Watford will wish it was the full-time one, because this scoreline seriously flatters the home side. City have been outrageously dominant and have created enough chances to fill a large hat.
6.17pm GMT18:17
45 min +1: Grealish reaches the byline on the right only for his cutback to deflect into the arms of Bachmann. Watford launch a counter, Sissoko making ground down the right. His cross clanks off Laporte and into the arms of Ederson. The home fans want a free kick for a deliberate backpass, but the referee is, quite correctly, not interested.
6.15pm GMT18:15
45 min: Even more effortless football. There will be two added minutes.
6.11pm GMT18:11
41 min: Silva jigs his way down the right and slips a pass through three defenders towards Gundogan. The resulting shot is blocked out for a corner, which is claimed by Bachmann.
6.09pm GMT18:09
39 min: Foden rolls a ball down the left to release Cancelo, whose low cross is hoicked clear by Femenia. City are pulling Watford all over the place.
6.08pm GMT18:08
38 min: City are knocking it around for their own entertainment. A long game of keepball.
6.06pm GMT18:06
36 min: Silva smoothly makes his way down the inside-right channel and is this close to releasing Gundogan with a slip down the channel. The ball breaks to Sterling on the right; his cross is blocked by Rose. City are rampant.
6.04pm GMT18:04
34 min: Foden misses an absolute sitter. A cross comes in from the right. Troost-Ekong misses his header, the ball dropping to Foden on the spot. Foden spins and slices wide left. This quite feasibly could already be a cricket score.
6.03pm GMT18:03
32 min: ... and then Rose is booked for a late lunge on Grealish, earlier in the move. That all happened just as Watford were tentatively working their way into the match, asking a couple of polite questions up the other end.
6.02pm GMT18:02
GOAL! Watford 0-2 Manchester City (Silva 31)
Gundogan is sent into the box by Silva. He takes a touch to the right, but Bachmann parries his low drive. No matter! The ball falls to Silva, who rounds the keeper and lashes home from a tight angle on the right. A sensational finish to a quick break upfield.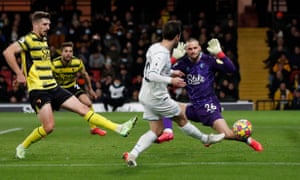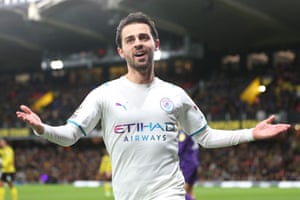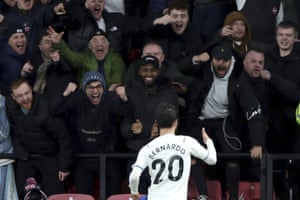 Updated at 7.12pm GMT
6.00pm GMT18:00
30 min: Dennis's effort is harmlessly deflected through to Ederson. City then do what they do, attempting to play through the Watford press, but uncharacteristically get it wrong this time, allowing Sissoko the chance to shoot from 20 yards. Miles over.
5.59pm GMT17:59
29 min: Some good work by King, who latches onto a loose clearance by Laporte and threatens to bomb down the inside-left channel. He's nicked by Dias, who is fairly fortunate not to go into the book. It's a free kick, though.