Victorian Liberals move to expel MP Moira Deeming for attending ...
Victorian Liberal leader John Pesutto will move to expel controversial MP Moira Deeming from the party over her role in an anti-trans rally.
An outspoken Victorian Liberal MP is set to be expelled from the party over her involvement in an anti-transgender rally attended by neo-Nazis.
Key points:Liberal MP Moira Deeming spoke at an anti-transgender rally in Melbourne on Saturday, where neo-Nazis performed salutesOpposition leader John Pesutto said he would move a motion to expel Ms Deeming as a Liberal party memberMs Deeming said she was disappointed with Victoria Police for letting masked men into the rally buffer zone
Moira Deeming spoke at the "Let Women Speak" event held by British anti-trans activist Kellie-Jay Keen-Minshull outside Victorian parliament on Saturday.
A group of neo-Nazis joined the anti-trans demonstrators and repeatedly performed the Nazi salute, sparking violent clashes as police kept counter protesters at bay.
Opposition leader John Pesutto said he met Ms Deeming on Sunday afternoon and discussed her involvement in organising, promoting and participating in a rally that had speakers and others publicly linked with far right-wing extremist groups, including neo-Nazi activists.
Mr Pesutto confirmed he would move a motion at the next party room meeting to expel her as a member of the parliamentary Liberal Party, declaring her position "untenable".
"This is not an issue about free speech but a member of the parliamentary party associating with people whose views are abhorrent to my values, the values of the Liberal Party and the wider community," Mr Pesutto said in a statement.
"The Liberal Party I joined and which I am now honoured to lead must strive to represent all Victorians.
"Regardless of religious faith, race, sexual preference and identity, Victorians everywhere should know that the Liberal Party is inclusive and can be a voice for them.
"No matter what our background we all share the abiding bond of an essential humanity."
Mr Pesutto labelled the scenes of black-clad white supremacists marching along Spring Street an "abomination" and "affront" to values all Victorians should hold dear.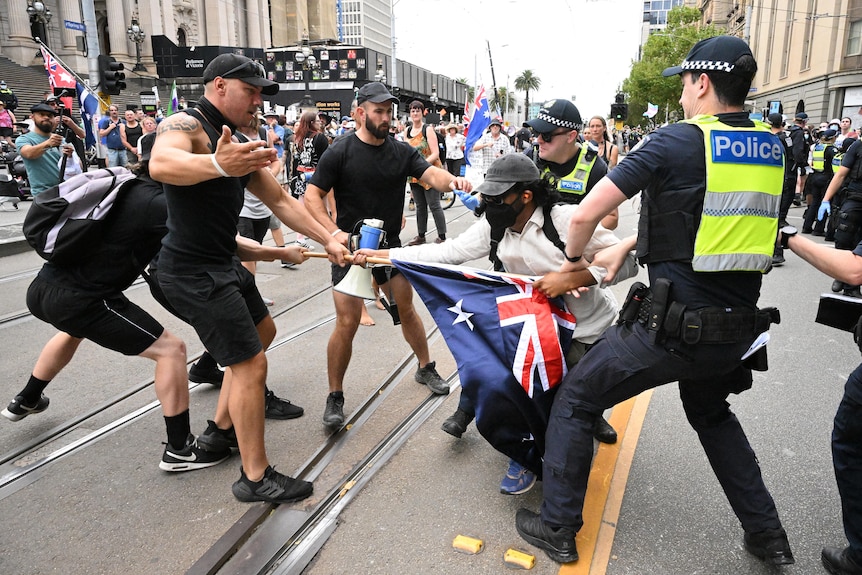 There were clashes between rival protest groups on the steps of Victoria's parliament on Saturday.(AAP: James Ross)
"The violence, prejudice and hate that these protesters conveyed by their odious actions will never be acceptable in our state," he said.
"I condemn them and commit to opposing such hate wherever it may exist."
Victorian Premier Daniel Andrews had earlier on Sunday also condemned the actions of those demonstrators.
In a post on social media, Ms Deeming said she was disappointed with Victoria Police for letting masked men into the rally buffer zone, "terrifying women who were just trying to speak about their rights".
"Police managed to stop hordes of (trans rights activists), but somehow could only walk masked men past us (as) they did a horrible Nazi salute," she said on Twitter.
The former teacher and City of Melton councillor was elected to the Victorian parliament last year as a member for Western Metropolitan region, replacing controversial MP Bernie Finn after he was expelled from the party over his abortion views.
She used her inaugural speech last month to call for an inquiry into transition practices and criticised measures to include trans women in female-only change rooms and sports.
AAP
Posted 53 minutes agoSun 19 Mar 2023 at 12:16pm, updated 48 minutes agoSun 19 Mar 2023 at 12:21pm