Fourteen people wounded in suspected Palm Sunday suicide bombing at Indonesian church
The attack was described as a 'cruel incident' as Christians were celebrating Palm Sunday, with people urged to remain calm and trust the authorities.
Two suspected suicide bombers blew themselves up outside a Catholic church in the Indonesian city of Makassar on Sunday, wounding fourteen people on the first day of the Easter Holy Week, the country's national police said.
The congregation had been inside the church on the island of Sulawesi at the time of the explosion, police said, just as the mass was ending.
Local police had previously said the bomber had acted alone.
"We suspect it was a suicide bombing," South Sulawesi police chief Merdisyam, who like many Indonesians goes by one name, told reporters.
"We're now trying to confirm his identity," he added, referring to the suspected attacker.
Authorities were looking into which radical networks the bombers came from and whether the attack was linked to recent arrests of suspected militants, national police spokesman Argo Yuwono said.
In January, a counter-terrorism unit raided a militant hideout in Makassar and killed two men suspected by police of involvement in twin bombings at a Philippine church in 2019 that killed more than 20 people.
Father Wilhemus Tulak, a priest at the church, told Indonesian media that a suspected bomber tried to enter the church grounds on a motorbike, but had been stopped by a security guard.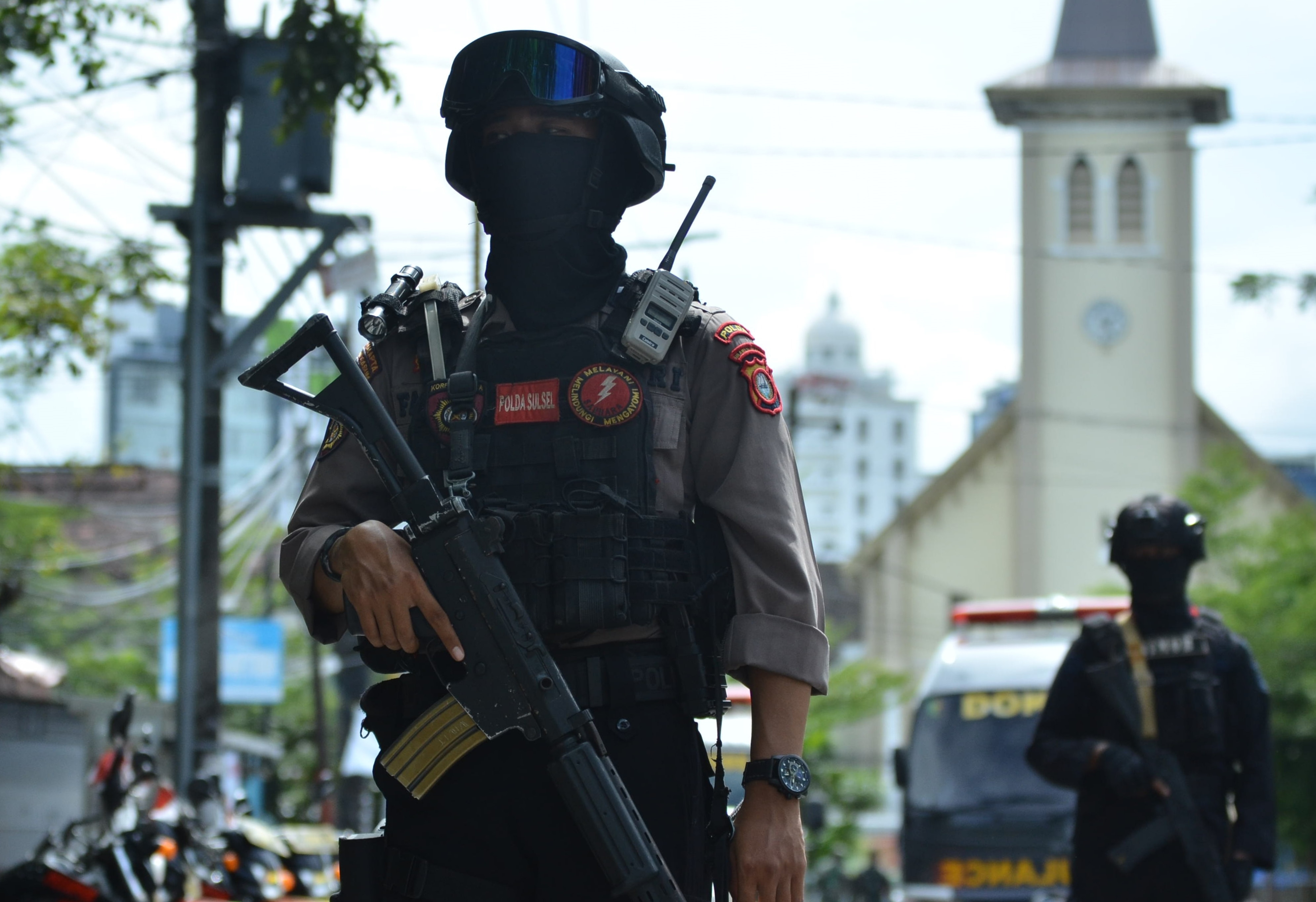 Police officers stand guard in the front of the Sacred Heart of Jesus Cathedral after a suicide bomb attack in Makassar, South Sulawesi.
Anadolu
A church security guard tried to prevent a man on a motorbike from entering the compound when the blast occurred, with images from the scene showing what appeared to be a body lying inside the carpark.
Churches have been targeted in the past by extremists in Indonesia, the world's biggest Muslim-majority nation.
In 2018, a dozen people were killed when a family of suicide bombers blew themselves up at churches during Sunday services in Indonesia's second-biggest city Surabaya.
The family - including two daughters, aged nine and 12 - and another family of five, which carried out the suicide bombing of a police headquarters, all belonged to the same Koran study group and were linked to local extremist network Jamaah Ansharut Daulah (JAD), which has pledged allegiance to Islamic State.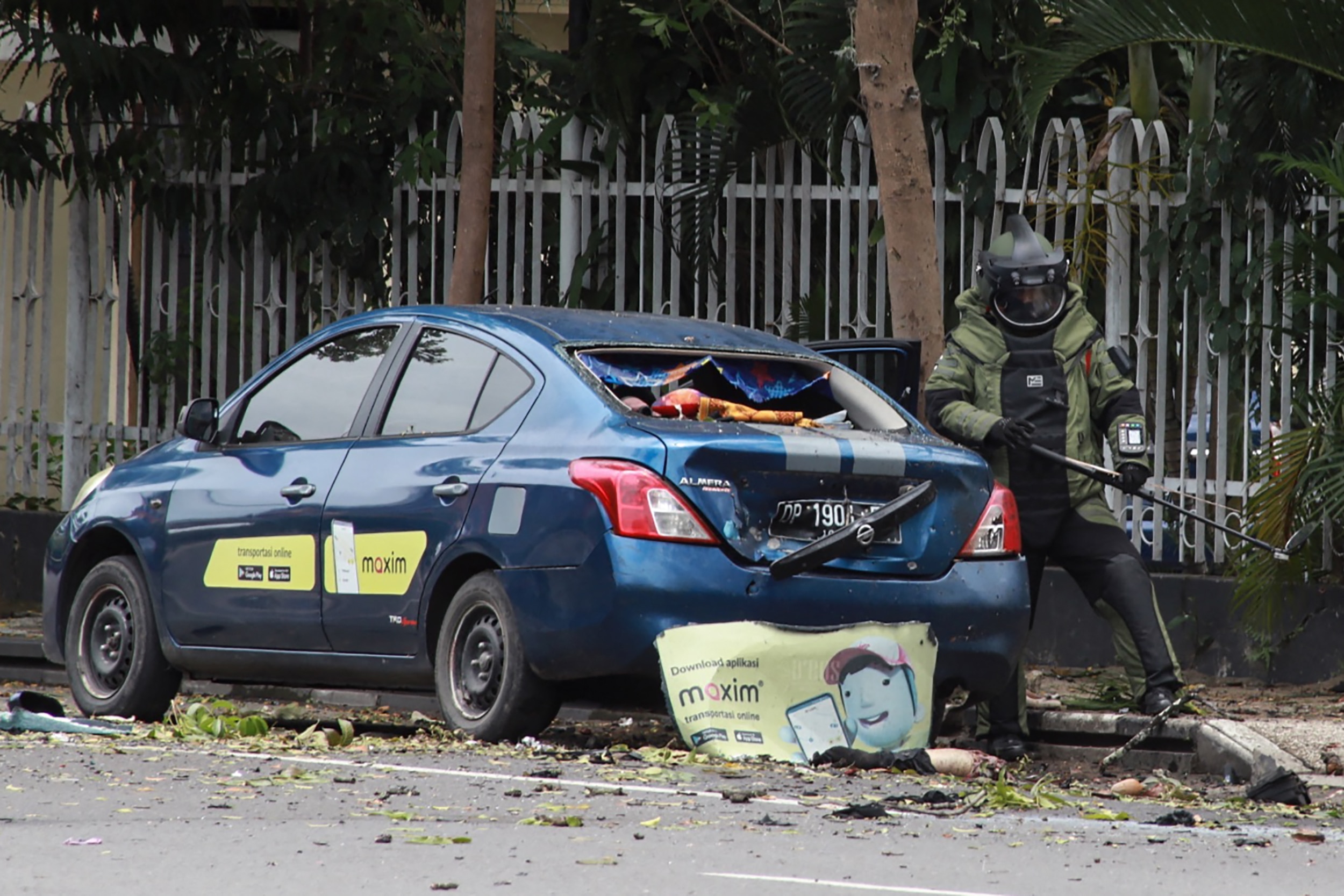 An Indonesian anti-bomb unit (C) collects evidences after a bomb exploded in Makassar.
Earlier Sunday, Makassar Mayor Mohammad Ramdhan said: "There are many body parts here at the church compound as well as in the street."
News footage showed cars near the building were damaged as police cordoned off the area following the explosion.
The explosion at the city's main Catholic cathedral happened just after congregants finished celebrating Palm Sunday, the first day of Holy Week, which commemorates Jesus's entry into Jerusalem.
It comes a week before Easter.
"We were finishing the service and people were going home when it happened," a man identified as the church's pastor told local media.
An eyewitness at the scene described the explosion as "very strong".
Gomar Gultom, head of the Indonesian Council of Churches, described the attack as a "cruel incident" as Christians were celebrating Palm Sunday, and urged people to remain calm and trust the authorities.
Indonesia's deadliest Islamist militant attack took place on the tourist island of Bali in 2002, when bombers killed 202 people, most of them foreign tourists.
In subsequent years, security forces in Indonesia scored some major successes in tackling militancy, but more recently there has been a resurgence of militant violence.