AFL 2021: Port Adelaide thrash Essendon – as it happened
Port Adelaide enhanced their premiership credentials with a devastating display of attacking footy against an undermanned Essendon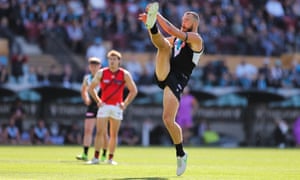 Key events
Show
8.10am

GMT

08:10

Power 18.11 (119) v 9.11 (65) Bombers

7.35am

GMT

07:35

3QT: Power 15.10 (100) v 6.8 (44) Bombers

6.46am

GMT

06:46

Half-time: Power 11.6 (72) v 4.7 (31) Bombers

6.08am

GMT

06:08

QT: Power 6.1 (37) v 1.4 (10) Bombers

5.35am

GMT

05:35

Opening bounce!

5.16am

GMT

05:16

Bombers XXIII

5.16am

GMT

05:16

Power XXIII
Live feed
Show
8.23am GMT08:23

Jonathan Howcroft
This one was over ten minutes into the first quarter, making it tricky to draw major conclusions from. However, it is uncontroversial to recognise that these are two sides at very different stages of their development. The Power are once again in the mix for a flag. The Bombers are just looking for some respite from their run of injuries to show there could be green shoots in Ben Rutten's solo tenure.
The match continued the free-scoring, open, attacking start to the season. Port Adelaide were thrilling launching attacks from defence, time and again linking chains of play down both flanks before hitting a forward on the lead. Dixon was a forceful presence for his 4.2, Georgiades more mobile for his 4.0. Around them Motlop, Ladhams and Fantasia all bagged braces, the latter the subject of much focus against his former side
In midfield Butters, Wines, and Boak were everywhere, while further back Aliir's intercept marking complemented the Power's rebounding gameplan to perfection.
By contrast, little went right for Essendon. Undermanned from the outset they lost three players to injury during the contest, Caldwell to a hamstring, Draper to a rolled ankle, and of most concern, Shiel to a knee injury that saw him leave the ground on crutches.
To their credit, they never gave up, and continued to push for a score despite playing the majority of the game safe in the knowledge they had been beaten. Hooker did his job as full forward, McDonald-Tipungwuti was lively alongside him, but the midfield was too easily carved open when the Power had momentum. It could be a tough early season period for Rutten with St Kilda next, followed by interstate trips to the Swans and Lions before the blockbuster ANZAC Day clash with the Pies.
That's all from me for today. We'll be back to do it all again soon.
8.10am GMT08:10
Power 18.11 (119) v 9.11 (65) Bombers
A comprehensive home victory for the Power. Much much too good for a battered Essendon.
8.10am GMT08:10
Q4: 1.00 mins remaining: Power 18.11 (119) v 9.11 (65) Bombers - Another majestic lead, leap and mark from Dixon to honour Ladhams' delivery. Great to see the big men like him and Walker back in full flight. The finish is leaky though.
8.08am GMT08:08
Q4: 2.00 mins remaining: Power 18.10 (118) v 9.11 (65) Bombers - The sound of the home faithful singing "Pow-er" reverberates around Adelaide Oval. It's lovely to hear things like that again. The match has degenerated into a fatigued, scrappy affair, as you might expect in the context.
8.00am GMT08:00
Q4: 8.00 mins remaining: Power 18.10 (118) v 9.9 (63) Bombers -Fantasia has two, picking up the pieces at the top of the square after good attack on the ball form Georgiades. The move began, as so many have today, way back in Port Adelaide's half. The ball progressed neatly along the right flank, by hand, and foot, until the centring ball caused havoc.
7.55am GMT07:55
Q4: 12.00 mins remaining: Power 17.10 (112) v 9.9 (63) Bombers -Shiel is back up and on the bench - carrying crutches - a sight you never want to see. Fingers crossed he's not too badly hurt.
7.53am GMT07:53
Q4: 13.00 mins remaining: Power 17.10 (112) v 9.9 (63) Bombers - Lycett makes amends for his error by holding onto a one-handed mark on the run then drilling home the angled set shot across his body.
7.52am GMT07:52
Q4: 14.00 mins remaining: Power 16.10 (106) v 9.9 (63) Bombers - McDonald-Tipungwuti gets coathangered on the run by Lycett. The livewire Don gets up, goes back, and kicks his third. The Bombers are digging in late on here.
7.49am GMT07:49
Q4: 15.30 mins remaining: Power 16.10 (106) v 8.9 (57) Bombers - Houston slots a superb strike from range out of nowhere. He was hanging out the back of a stoppage and slapped home a pure belter from 48m on an angle from a standing start.
Now Cale Hooker's hurt a finger. He's playing on, but it looked like he might have done some damage to a fingertip after he failed to hold onto a tumbling ball over his head.
7.47am GMT07:47
Q4: 16.30 mins remaining: Power 15.10 (100) v 8.9 (57) Bombers - Now it's Shiel's turn to limp off in the hands of trainers. The former Giant's left knee took some punishment in a Jonas tackle and he's been helped down to the rooms. What a day this is turning into for Essendon.
7.45am GMT07:45
Q4: 17.00 mins remaining: Power 15.10 (100) v 8.9 (57) Bombers - Port Adelaide have yet to get going since three-quarter-time, and they almost cough up another goal but Smith hits the post.
7.44am GMT07:44
Q4: 18.00 mins remaining: Power 15.10 (100) v 8.8 (56) Bombers - The Dons have their second of the quarter before Port Adelaide have even touched the footy! How important are centre clearances these days? The lucky Bomber to snag the sausage roll is young Cox, who gets his maiden goal in first grade footy.
7.42am GMT07:42
Q4: 19.00 mins remaining: Power 15.10 (100) v 7.8 (50) Bombers -Snelling, who began his career with Port Adelaide, lays a tackle 30m from goal, then goes back and slots home the free-kick.
Draper is done for the day. He's got his left ankle iced. At least two Bombers now awaiting the result of scans early next week.
7.35am GMT07:35
In other footy news...
7.35am GMT07:35
3QT: Power 15.10 (100) v 6.8 (44) Bombers
The 56-point margin feels unders at three-quarter-time for a thrilling Port Adelaide outfit. Essendon have yet to give up, but they were ineffective in that third quarter and have lost Caldwell to injury while Draper looks proppy too.