COVID live: Brisbane lockdown to last for three days, mask wearing mandatory in Queensland
The Queensland government declares Brisbane a hotspot, with the city to go into lockdown this afternoon after four more cases of community transmission are detected, one of whom travelled to Gladstone. Follow live.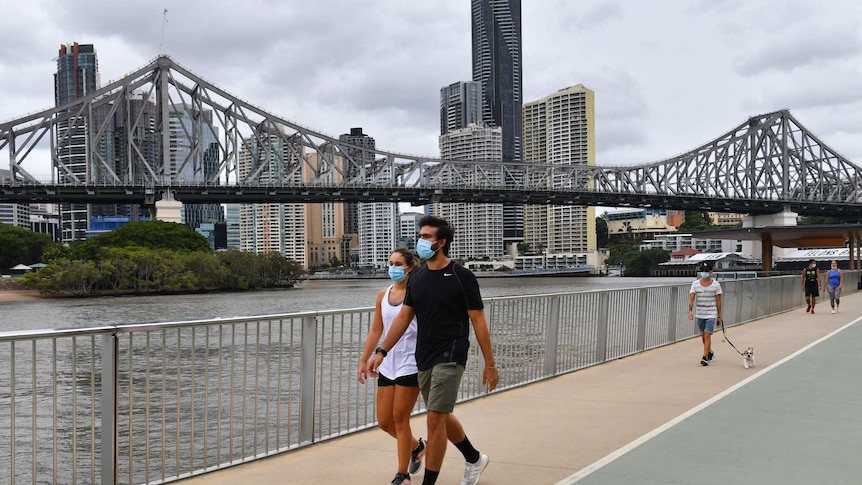 Give me a Q! Give me a U! Give me an E!
I had visitors stay over from the Greater Brisbane area over the weekend. Am I required to isolate too?

-Caroline
We're getting this question a lot, and we can't say for sure yet sorry folks. We're trying to get an answer ASAP.
If you have any symptoms at all, you should get tested an isolate yourself until you get a result regardless.
Ahhhh!!! Due to fly into Brisbane on Wednesday and then drive straight to Sunshine Coast. Will we be allowed back into Victoria?

-Ady
I can't say for sure Ady. We're still waiting to hear how Victoria will treat this latest outbreak. We also can't assume this outbreak has been contained to the Greater Brisbane region yet. All possibilities are on the table right now, and during other outbreaks Victoria has closed its borders, even to Victorians, so keep that in mind.
Can we travel out of the Greater Brisbane area before 5PM today to visit relatives in Gladstone area?

-Itchy Feet
Queensland's Chief Health Officer Jeannette Young asked specifically for people not to do this, Itchy Feet. Here's what she said:
"I would hope, and I'm sure, that this will not occur, that people don't choose to leave Brisbane during this time. It's important that people go home."
Remember, the more we all cool our jets for a few days and follow the rules, the quicker this thing will be over.
I went to to the Brisbane Bronco's game on Saturday but don't feel ill in any way, do I need to have a Covid test to be safe?

-Mark
There's no extra requirement for people in the Greater Brisbane region to get tested if you don't have symptoms. If you do though, you shouldn't hesitate to get a test (which will be the case from now until we're all vaccinated, TBH).