UFC 260: Francis Ngannou destroys Stipe Miocic with brutal second-round KO to become new heavyweight champion
Ngannou avenged his loss in grand fashion.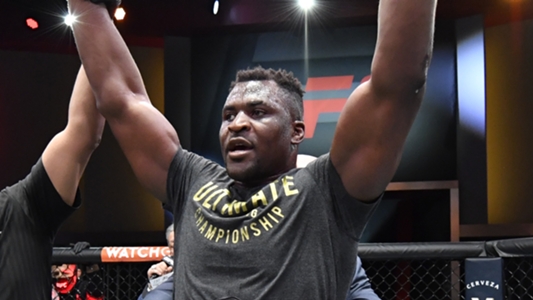 Ngannou destroys Miocic with second-round KO!
Miocic's left eye seems to be bothering him. Ngannou lunges forward and drops Miocic with a left cross. Miocic is in a world of trouble! He's unloading on Miocic against the Octagon. Now, Ngannou drops Miocic with another left! Miocic is bent backwards at the knees. Ngannou finishes it in brutal fashion with a hammerfist! Herb Dean rushes in to save Miocic. It's over! The winner and new champion of the world, Francis Ngannou! 
Miocic-Ngannou; Round 1
The champ and challenger touch gloves and are trying to figure each other out. Ngannou launches an inside leg kick. The size difference is glaring. Ngannou lands a solid right to the side of Miocic's head and the champ is somehow still standing. Miocic goes for the takedown, but Ngannou sprawls and shows great takedown defense and takes the champ's back. Ngannou launching short bombs. Miocic is in trouble, but he makes it out. Ngannou launches a head kick that partially lands. Ngannou connects with an inside leg kick moments later. (10-9 Ngannou)
And here comes the champ
Miocic looking extremely confident, as he'll try to make it 2-0 over Ngannou. The fact that Miocic, the champion, enters this bout as the underdog has got to irk him. Let's see how he responds.
Ngannou making his walk to Drake's "God's Plan"
The 34-year-old's emotional, moving journey can reach its highest note with a victory over Miocic to become the heavyweight champion of the world.
This UFC 260: Miocic vs. Ngannou 2 main event is next
The rematch we've been waiting for is minutes away. Will Miocic double down on his domination of Ngannou or will "The Predator" make the greatest heavyweight champion in UFC history his prey? We're about to find out.
Luque calls out Nate Diaz
"I think Nate is a perfect fight," Luque declares after his big win. "Let's go!"
Luque drops Woodley with a thud, gets first-round submission (d'arce choke)
Woodley comes right out, grapples and mashes Luque up against the cage. Now, he lets his foot off the gas and it's Luque pressing Woodley up against the Octagon. Woodley tags Luque with a stiff right hand. Moments later, Woodley nearly drops Luque with a solid right behind the ear. Luque remains composed and blasts Woodley with an overhand right! Woodley is hurt bad. His legs are jelly. 
Luque unloading a barrage of punches on Woodley, who's up against the cage in trouble. Ref leans in to take a closer look. Woodley, standing on jelly legs, falls to the mat. Luque is looking for a submission. He catches Woodley with the d'arce choke and clamps it on strongly. Woodley taps! It's over.
Co-main event time
Vicente Luque has made his way into the Octagon and here comes Tyron Woodley. This welterweight clash is minutes away. Woodley enters on a three-fight skid, which he'll be looking to snap tonight.
O'Malley gains some invaluable experience
That was a dazzling performance from O'Malley, who's as talented a striker that you'll see in the UFC. However, he possibly could have finished the bout in the first round when he dropped Almeida. But instead of pouncing on him, he stopped and admired his work. It didn't backfire on him tonight, but it can in the future. If O'Malley has a future opponent in a similar position early, let's see if he'll close out the show.
Watch the jumpshot celebration from O'Malley O'Malley detonates savage KO!
O'Malley spending the third round sticking and moving, landing crisp shots at will. He's landing whatever stinging shot he wants, whenever he wants. And BOOM! O'Malley drops Almeida with a short left hand. O'Malley pauses and admires his work again. Then, he walks a couple of steps forward and detonates a savage overhand right onto a fallen Almeid for the walkoff KO. The way O'Malley just casually walked over to a fallen Almeida before finishing him was devastating.
Third and final round
Sure enough, this one is going into the third round. O'Malley is still in complete control, though.
O'Malley almost finishes Almeida in first round
O'Malley launches a head kick and blasts Almeida in the temple. O'Malley then throws one punch and Almeida is slumped up against the Octagon. O'Malley admires his work instead of finishing Almeida. He wanted the walkoff KO badly, but if this one goes the distance, O'Malley is going to be kicking himself for not pouncing on his opponent and ending it right there.
Sean O'Malley is making his walk to the Octagon
O'Malley's bantamweight bout against Thomas Almeida is next. O'Malley is expecting to be kicked by Almeida, but is vowing to deliver a knockout as his response. O'Malley is coming off a first-round TKO loss to Marlon Vera in August.
Machine Gun Kelly visits Stipe Miocic
Cleveland supporting Cleveland.
The champ is here Maverick cruises to unanimous decision win
Constant pressure from Maverick, whether she was coming forward with striking or taking Robertson down, spelled the difference. Maverick was just too much for Robertson to handle. Excellent showing from Maverick. Judges had it 30-27, 30-27 and 29-28 in her favor.
Miranda Maverick in full control early on
Maverick all over Gillian Robertson in this first round on the feet with her striking and scoring two takedowns as well. The second takedown came during the waning seconds, when Maverick used a brilliant level change before bringing Robertson down to the ground.
Women's flyweight action is up next
Gillian Robertson believes that she has all the tools to overwhelm Miranda Maverick in the Octagon. How is this one going to pan out?
Francis Ngannou is in the house!
Will tonight be the night that Ngannou becomes UFC heavyweight champion of the world? We'll find out later this evening.