Australia news live: News Corp photographer condemns 'toxic' sexism at tabloids; OECD election too close to call
Anna Rogers tells parliament she was discriminated against by the Murdoch empire for being female; no clear winner in OECD race; PM rejects claims of favouring Coalition and marginal seats through tourism package. Follow all the latest updates, live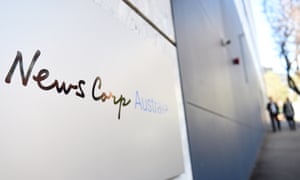 Key events
Show
11.14pm

GMT

23:14

News Corp photographer says she was discriminated against by Murdoch empire for being female

11.13pm

GMT

23:13

Victoria reaches 14 days without a local Covid-19 case

11.01pm

GMT

23:01

Australia won't halt AstraZeneca rollout despite concern in Europe

10.48pm

GMT

22:48

Government will consider adding Mildura and Albury-Wodonga airports to tourism package

10.25pm

GMT

22:25

Channel Nine and Win to reunite

10.10pm

GMT

22:10

OECD election too close to call so far

9.52pm

GMT

21:52

Peter Dutton hits back at critics 'playing politics' with government's tourism package
Live feed
Show
11.25pm GMT23:25
This morning the Victorian government launched a new wave of travel vouchers this morning, giving people $200 to take a trip into the city and stay at least two nights.
And would you look at that! Within six minutes all 40,000 were gone!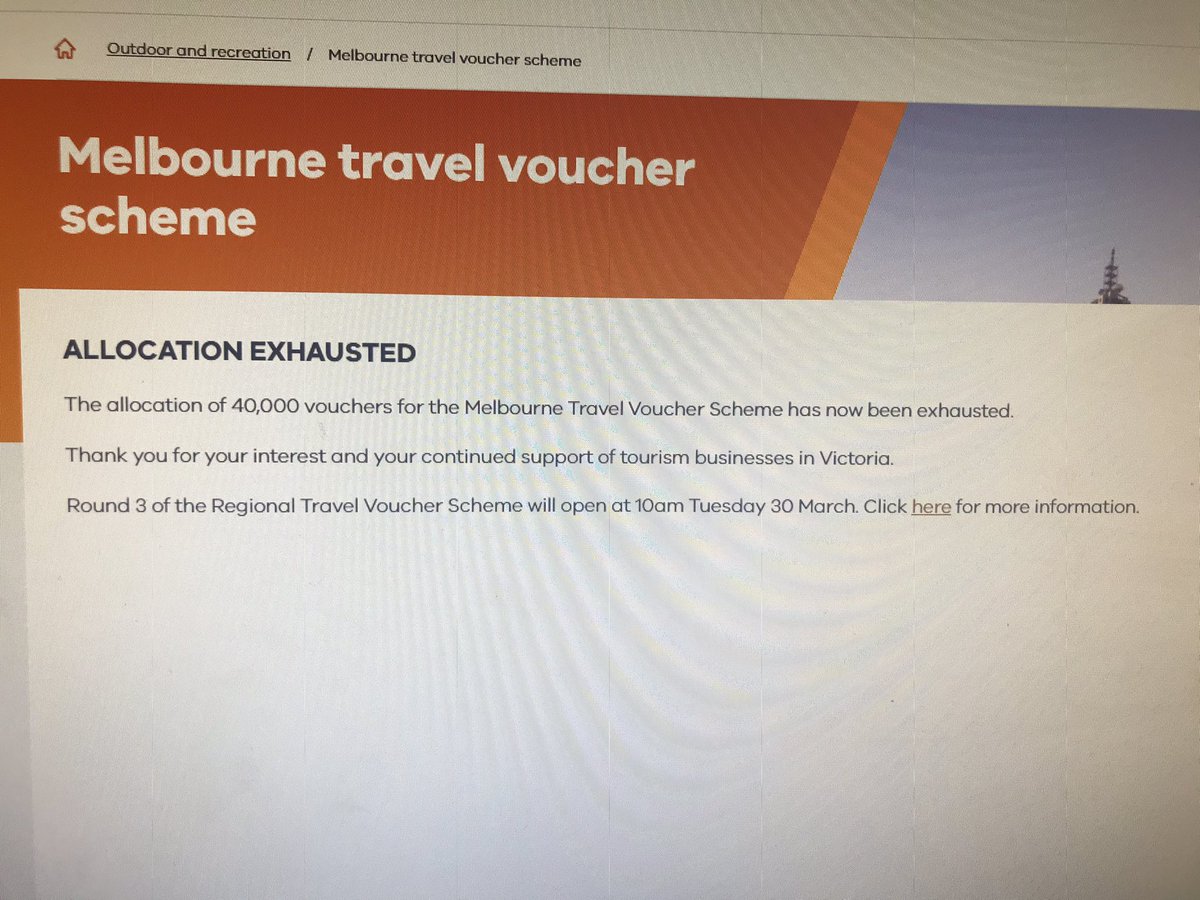 The state government described the tourism support package like this:
The Melbourne Travel Voucher Scheme provides eligible Victorians with $200 to help cover the costs of a minimum two nights paid accommodation, plus attractions or tours in metropolitan Melbourne during the eligible travel period.
11.14pm GMT23:14
News Corp photographer says she was discriminated against by Murdoch empire for being female

Amanda Meade
A long-term News Corp Australia photographer, Anna Rogers, has told parliament she was discriminated against by the Murdoch empire for being female in a "toxic" sexist environment.
The 25-year veteran of News Corp, who worked for many years at the Courier Mail, was made redundant last year and the union had to fight for her proper entitlements, she told the media diversity inquiry.
Rogers says the newspapers' coverage is also driven by sexism, with directions to photographers not to shoot "a pig in lipstick" and only shoot attractive young women under the age of 35.
She says subscription targets are now driving court coverage with photographers told to mine social media accounts of defendants rather than read the charges.
Updated at 11.24pm GMT
11.13pm GMT23:13
Victoria reaches 14 days without a local Covid-19 case
Victoria has now reached a full Covid-19 incubation cycle with no locally acquired cases. This will no doubt help raise confidence that the Melbourne airport quarantine hotel cluster has died out (although 28 days is needed in order to confirm elimination).
It's worth noting that the last cases two weeks ago came from people already in quarantine, so posed no infection risk to the public.
Updated at 11.26pm GMT
11.01pm GMT23:01
Australia won't halt AstraZeneca rollout despite concern in Europe
Home affairs minister Peter Dutton says the government is still confident in the AstraZeneca vaccine despite several European countries suspending the rollout.
Denmark, Norway and Iceland have temporarily stopped using the vaccine while authorities investigate whether it is linked to blood clots. (There are about 30 cases out of five million doses given out so far.) Other countries stopped the usage of a specific batch of the vaccine.
But Dutton told the Today Show that Australian authorities do not share these concerns:
The way in which this rollout has worked, not just here but around the world, means that we do have an enormous amount of data..

And the conclusion here is that the vaccine is safe, it will continue to rollout.
Updated at 11.27pm GMT
10.48pm GMT22:48
Government will consider adding Mildura and Albury-Wodonga airports to tourism package
McCormack said Avalon airport was chosen as the government subsidised destination in Victoria as the nearby Great Ocean Road was heavily reliant on international tourists.
With the Great Ocean Road, that is where international tourists flock to. That is one of the biggest areas, which was hardest hit in Victoria. So, that was why we put Avalon on the list...

There are many fine operators up and down the Great Ocean Road. It is a fantastic area. I encourage Australians to go and visit. Take a drive or take one of the half price tickets. Go to Avalon. See the Great Ocean Road. Magnificent. Twelve Apostles. Look at it!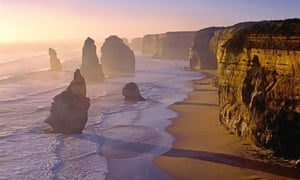 The deputy prime minister said the government would potentially consider adding other Victorian airports like Mildura or Albury-Wodonga (technically NSW, but it's on the border) to the list, but didn't miss the chance to slam Victorian acting premier James Merlino:
Like I say it is an initial list, an initial list of 15. We will certainly look at those other centres and other destinations as well but I will not stand here and take lectures from James Merlino.

I appreciate he is the acting premier and wants to get out and get on the front foot and get a headline for himself. A bit rich coming out and criticising the federal government when we have provided so much support for Melbourne, for regional Victoria, for the state of Victoria in general. When it's been the Victorian Labor government that at the drop of a hat has closed its border and then caused so much heartbreak and hardship for so many people in this state.
Updated at 11.01pm GMT
10.41pm GMT22:41
Given McCormack is speaking from Melbourne, perhaps it's not surprising that questions have quickly turned to the Victorian state government's displeasure at the federal travel rescue package.
Only one of the 15 "half-price" destinations is in Victoria, Avalon airport, only an hour out of the city. Acting Victorian premier James Merlino has slammed the plan, but McCormack says the state's long and economically devastating lockdowns doesn't mean they deserve a larger share in the $1.2bn package.
Well, the Victorian government locked down their borders like that. At the drop of the hat. Hasty decisions. Locked borders when they had a couple of community outbreaks.

I appreciate last July it was difficult when there was that massive outbreak which cost the lives of more than 800 people. I understand that. I know whatever we think and say about our premiers, they have done what they thought they needed to do to protect the people in their state. But it has come at a big cost. Come at a big cost to business. Come at a big cost to livelihoods...

Particularly when I have members in my own party who were far closer to Adelaide and South Australia than they were to Melbourne. Yet they were still under the same impositions that Melbourne was. I mean, I spoke to farmers who had to wear, for goodness sake, face masks to go and check on their stock when they were many hundreds of kilometres from Melbourne. That is pretty hard. That's pretty difficult.
Updated at 10.48pm GMT
10.32pm GMT22:32
Deputy prime minister Michael McCormack says there is "still hope" for vaccinating all adult Australians by the end of October, but seem to have conceded it's not that likely.
He is speaking to media now from Melbourne:
There's still the plan that's still the hope ... Australia is a big nation. I'm pleased as a regional member that regional people are being vaccinated at the same rate as our city friends.

We have a plan. We're rolling it out. We're getting on with the job.

It won't go flawlessly all the way through. The health minister Greg Hunt has acknowledged that, the prime minister acknowledged that, but we do the very best we can for a very large nation – this is the largest peacetime logistical exercise in Australia's history.
Updated at 10.38pm GMT
10.25pm GMT22:25
Channel Nine and Win to reunite

Amanda Meade
Regional television viewers can expect a shake-up in their television schedules after Nine Entertainment switched its affiliate broadcaster from Southern Cross to Win.
Ten will partner with Southern Cross again, reversing the change that was made five years ago.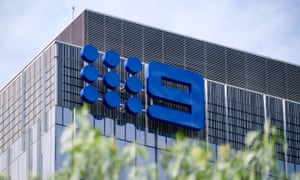 Starting in July the partnership will see Nine expanding its reach into Tasmania, regional Western Australia, Victoria, Queensland and Southern NSW.
Nine told the ASX this morning that the seven year agreement will start from 1 July.
Chief executive officer of Nine Hugh Marks said:
While our relationship with Southern Cross has been strong over the last five years, the opportunities presented by the Win network to both extend the reach of Nine's premium content into more regional markets under one agreement, and to work cooperatively with them on a national and local news operation, mean this is the right time for us to return to Win.
Updated at 10.45pm GMT
10.20pm GMT22:20

Ben Butler
The prudential regulator has closed its investigation into Westpac's breaches of anti-money laundering laws – the breaches that resulted in it allowing transfers to the Philippines that were consistent with child sexual abuse.
Australia Prudential Regulation Authority watchers will not be surprised to learn that no breaches of the Banking Act or the Banking Executive Accountability Regime (a name clearly cooked up so that the acronym Bear could be used) and it thinks there's no further action required.
The bank is already subject to an enforceable undertaking and a $1bn add-on to the amount of capital it's required to hold.
In a statement, deputy Apra chair John Lonsdale said:
Although the investigation has not found evidence of breaches of the Banking Act or the Bear, Apra remains determined to ensure Westpac rectifies its risk governance weaknesses effectively and sustainably.

Under the enforceable undertaking, Westpac has clearly defined executive and board accountabilities for the implementation of its integrated risk governance remediation plan. Apra will be holding Westpac to account for the delivery of the required improvements.
Updated at 10.27pm GMT
10.16pm GMT22:16
Good news for NSW residents in Auckland, they will once again be allowed to return to Australia without quarantine, as the New Zealand cluster dies out with no more new cases reported in the recent Auckland cluster since 28 February.
NSW health released a statement last night confirming the (one-way) travel bubble will reopen:
People who have been in Auckland in the past 14 days will be exempt from hotel quarantine provided that they seek testing for Covid-19 after arriving in NSW. They must self-isolate in their accommodation until they receive a negative result.

NSW Health will follow up arrivals from Auckland if a negative test is not recorded for them, to inform them of their obligations.

If a person has only been in Auckland airport after flying into Auckland airport from another part of New Zealand, they will not be required to quarantine or self-isolate on arrival in NSW.
Updated at 10.22pm GMT
10.10pm GMT22:10
OECD election too close to call so far

Daniel Hurst
The OECD has so far been unable to find a clear winner in the contest between former Australian finance minister Mathias Cormann and former European trade commissioner Cecilia Malmström – so the decision may not be finalised until later this month.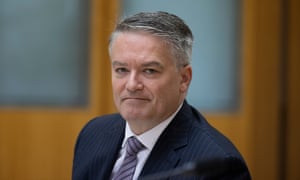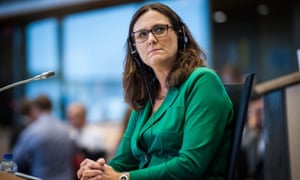 Cormann and Malmström, the Swedish candidate, are the final two nominees for the role of secretary general of the Paris based OECD. The selection process is based on seeking to find consensus among OECD member states.
A report by the OECD on the fifth round of consultations, issued overnight, said all OECD members were asked to identify their preferred candidate, so that aggregate levels of support for each candidate were identified.
Following discussion with the Selection Committee, the Chair's conclusions were finalised and these were communicated first to the nominating ambassadors, and then to the Heads of Delegations in plenary. Following these consultations, the Chair has been unable to identify which candidate has the most support. Further steps will be taken in March, with the aim of concluding the process.
Updated at 10.41pm GMT
9.52pm GMT21:52
Peter Dutton hits back at critics 'playing politics' with government's tourism package
Peter Dutton has pushed back against the widespread criticism of the federal government's tourism package, taking aim at local mayors and others "playing politics" with the program.
The program has promised 800,000 government subsidised plane tickets to 15 tourist destinations in an attempt to bolster domestic tourism as jobkeeper ends.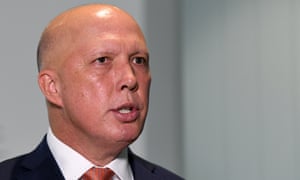 But many have accused the government of choosing destinations disproportionately located in marginal electorates in order to court regional votes.
Dutton spoke about the package on the Today Show this morning:
There are lots of people that will take any dollar that you give them, and if you give them one dollar they ask for a second.

The fact is mums and dads love this policy because they want a cheap airfare and they want to go for a holiday, they want to be able to spend money in regional areas.
Deputy opposition leader Richard Marles also spoke to Channel Nine saying the tourism package was a massive let down, describing it as merely "half-price tickets to marginal seats".
What they have got here is a lemon.
Updated at 10.06pm GMT
9.34pm GMT21:34

Daniel Hurst
Chinese students in Australia are afraid to speak out on politically sensitive issues because of potential repercussions for relatives back home, a parliamentary inquiry has been told.
Human Rights Watch has said its ongoing research into academic freedom in Australia had found anxiety and loneliness among Chinese students, with some engaging in self-censorship to avoid a backlash from Beijing.
Addressing an inquiry into foreign interference in the university sector, Sophie McNeill, a researcher for Human Rights Watch Australia, said on Thursday there was "a very deep fear of being watched, of being reported on".
You can read the full story below:
9.16pm GMT21:16
A vessel carrying 200kg of cocaine has been intercepted off the NSW coast and one man has been arrested, reports AAP.
The drugs were unloaded and seized in Balmain, Sydney, on Thursday, the Australian Federal Police said on Friday.
The joint investigation by the AFP, NSW police and Australian Border Force started on 6 March after intelligence was received from "international law enforcement partners".
A man is expected to appear in Sydney central local court on Friday.
Updated at 9.21pm GMT
9.13pm GMT21:13
Several European countries suspend AstraZeneca vaccinations
Several European countries have either suspended inoculations with the AstraZeneca vaccine as a precautionary measure or banned the use of a specific batch.
This comes after the EU recorded 30 cases of blood clots forming in people after receiving the jab, out of more than five million.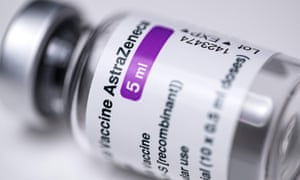 The European Medicines Agency since released a statement confirming the Oxford/AstraZeneca Covid vaccine can continue while the incidents are investigated.
The vaccine's benefits continue to outweigh its risks.
Denmark, Norway and Iceland announced they were temporarily halting all AstraZeneca vaccinations to investigate the cases. Italy followed Austria, Estonia, Latvia, Luxembourg and Lithuania in banning inoculations with one particular batch of 1m doses that was sent to 17 countries.
Australia's vaccine strategy is highly reliant on the AstraZeneca jab, with the majority of the country expected to be immunised with it.
You can read Jon Henley's full report on the situation below:
Updated at 9.19pm GMT
9.05pm GMT21:05
Thorpe has called for the minimum age someone can be held criminally culpable to be raised from 10 to 14:
We have got young children being locked up for stealing a chocolate bar in this country, we're locking up children at the age of 10. We need to be in line with the international standard of 14 at least. That would see 600 children released tomorrow!

So there are simple steps we can do to achieve that. In Victoria we've had an increase of over 500% of incarceration of Aboriginal women. It just seems we get a little bit and then we're taken back another three steps.

So, we need real change. We need to change these racist laws that continue to incarcerate us, continue to kill us in the justice system.
Updated at 9.08pm GMT
9.02pm GMT21:02
Yesterday Victorian Greens senator Lidia Thorpe called the justice system "deeply racist", following the deaths of three Aboriginal people in custody over the past week.
An Aboriginal man died in Victoria's Ravenhall Correctional Centre on 7 March.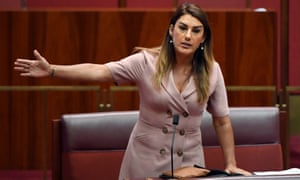 In NSW, a man in his 30s and a woman in her 50s have died in the past week, but their deaths were only revealed under questioning during a NSW parliamentary hearing two days ago.
The senator has just spoken to ABC News Breakfast and was asked if she see any improvement in the justice system:
Unfortunately, no. Not with the current government.

It's the 30th anniversary of the royal commission into Aboriginal deaths in custody. This year, the families have called to meet with the prime minister. That's fallen on deaf ears so far.

So, I mean how many more deaths do we need to go through for people to actually listen and take this issue seriously?

We have almost had 500 deaths since the royal commission. In 30 years, 500 [deaths], and no one's immune. We're a tight-knit community, and we're all affected by this loss. And the systemic racism is real.

We're based on a colonial system, right, and that colonial system doesn't treat people in this country very well at all.
Updated at 9.31pm GMT
8.57pm GMT20:57
Virgin Australia's boss says an expected boom in domestic tourism and optimism caused by the vaccine rollout has allowed the company to reduce the number of redundancies it will implement once jobkeeper ends but confirms some will still be out of a job.
Jayne Hrdlicka has just spoken to ABC News Breakfast:
We've announced redundancies that were necessary. As I mentioned, the total number of redundancies at Virgin just reduced as a consequence of the optimism we have with respect to the domestic market coming back and confidence the international border will open in October. Great news.

The people we are standing back up will be moving Australians to destinations across the country. For every dollar spent on a plane ticket, $10 is spent in the community. That's ultimately part of the travel agenda. The tourism businesses suffering right now are going to get the benefit associated with us moving people around the country now. So, the whole ecosystem starts to rise as Australians get out of the house.
Just for clarity, the international border opening by October is looking less and less likely as it would be reliant on the vaccine rollout being completed for all willing adults. Australia is already significantly behind schedule so the October deadline has been called into doubt.
Updated at 9.14pm GMT
8.43pm GMT20:43
Welcome to Friday
Good morning, Matilda Boseley here with you to get through the last dying gasps of the week.
At least in the political landscape, the federal government's tourism rescue package is still the hot topic of conversation.
Yesterday prime minister Scott Morrison announced $1.2bn dollars would be dedicated to providing half-priced plane tickets to a number of popular tourist destination in an attempt to bolster the travel sector as jobkeeper ends.
Morrison has rejected claims the government favoured Coalition and marginal seats when choosing these destinations, labelling opposition leader Anthony Albanese's accusation that southern Tasmania had been ignored because it was a safe Liberal seat as "absurd".
It's ridiculous. I mean, the northern parts of Tasmania is the regional part of the state which needs that additional support...

We already have lots of flights going into Hobart.
The list released yesterday morning was just an "initial" list, Morrison says, with the government already adding Darwin (a Labor stronghold) later on Thursday.
But it doesn't look like their troubles are over just yet, with Victorian leaders saying they have been short-changed after only receiving one (kinda weird) half-priced destination in the scheme.
Avalon airport was chosen, but it isn't exactly in the middle of a tourism hub. It's only an hour out of Melbourne, services the industrial city of Geelong, and while it would help funnel tourists down the Great Ocean Road, acting premier James Merlino says that won't be enough.
It's like they are looking at the Melbourne and Sydney markets and using them as the source for markets across the rest of the country. It is not fair, and we are disappointed...

You only have to look at the numbers. Five in Queensland, three in Tassie, two in the Northern Territory, just one in Victoria. This is not a great outcome for tourism operators, other than those who will be serviced by flights to Avalon.
Now the other important thing happening today is the WA state election entering its final day, with opposition leader Zak Kirkup insisting he has no regrets, despite the Liberal's almost guaranteed defeat.
This could also spell the end of Kirkup's short-lived political career after the 34-year-old has vowed to walk away from politics if he loses his ultra-marginal seat of Dawesville at Saturday's state election.
We've done everything we can and will continue to work incredibly hard to get out there...

It takes a toll but I promise you it is worth it for the people of Western Australia so that they understand exactly what it might mean if Labor gets total control and total power.
Uttering the phrase "we've done everything we can" in the dying hours of an election campaign is probably not a good sign, to be honest.
Well, with that why don't we jump into the day!
If there is something you reckon I've missed or think should be in the blog but isn't, shoot me a message on Twitter @MatildaBoseley or email me at matilda.boseley@theguardian.com.
Updated at 8.58pm GMT