NSW council elections LIVE updates: Clover Moore expected to extend City of Sydney mayoral reign as state's residents head to the polls
Sydney lord mayor Clover Moore is fighting for a historic fifth term at Town Hall as voters head to the polls today for 124 councils across the state.
Ryde resident Cameron Last – who is too young to vote – has been on his traditional quest today to demolish as many democracy sausages at as many polling booths as possible in the local government area.
He started at West Ryde Public School and continued to Smalls Road Playing Field, but was disappointed to find there was no democracy snag at Ryde Public School. Meadowbank Public School delivered the goods, as did Putney Primary School.
A number of schools did not have a sausage sizzle today owing to COVID-19 restrictions, prompting him to duck into Bunnings at Gladesville for supplementary sustenance.
Ryde East Public School also had democracy sausages on offer. His final location was Eastwood Heights Public School, to which he awarded his democracy sausage trophy this year.
Meanwhile, the City of Ryde also has a referendum today on whether it should in future popularly elect a mayor.
The current mayor, Jerome Laxale, was drawn out of a hat twice after tied votes among councillors in 2015.
Liberal Party elder Philip Ruddock has been wearing down the shoe leather today, having ticked off 40 of the 47 polling booths he aims to visit on his final day of campaigning to retain his mayoralty at Hornsby Council.
"I was kindly accompanied by Matt Kean today, and he was keen to talk to more people than me. I think he was slowing us down," Cr Ruddock said.
The former Howard-era Attorney General is one of 35 popularly-elected mayors in the state who are facing the polls again this year. Most of the 124 council elections across the state today involve a vote for councillors only, but Hornsby, Hunters Hill and the City of Sydney are among the 35 exceptions.
"It means you need to be working productively in the community, and hopefully they respect what you've done and in the end they support you," Cr Ruddock said of the voters he is hoping to win over by 6pm.
While we won't see any results until later this evening, the mayor said he was quietly confident of retaining his position.
"But I don't claim to be entitled to expect a particular outcome, I'm working for it," he said.
Frustrated voters in this year's council elections are facing long waits to cast their in-person ballots in Sydney's CBD, as a lengthy queue formed at one polling booth.
City of Sydney councillor and lord mayoral candidate Angela Vithoulkas, who is seeking to unseat Clover Moore, said a queue of about 200 people at a polling booth on Francis Street, near Town Hall, was snaking onto College Street next to Hyde Park about 4pm.
"The line's right around the corner. It's awful. People are irate and annoyed. Some of these people won't be able to vote because there's not enough people to process the votes."
Cr Vithoulkas said many people stuck in the line had expected they would be able to vote at nearby Town Hall, but authorities had decided not to use the large polling booth this year due to COVID-19 safety measures.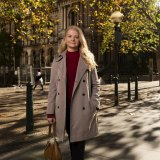 The number of voting venues in the City of Sydney increased from 33 to 43 this year.
Cr Vithoulkas said some voters faced a wait of more than one hour and were being advised to go to a polling booth in Darlinghurst before the polls shut at 6pm.
Applications to use online voting, or iVote, closed at 1pm, and the system crashed earlier today.
"Francis Street is a small booth, and with Town Hall closed they were ill-prepared. A lot of people are walking over from Town Hall, because it's usually always open for voting and it's always a big booth.
"Where do they want people who live and work in the CBD to vote?," Cr Vithoulkas said.
Cr Vithoulkas was elected to the council as an independent in 2012 and founded the Small Business Party in 2017.
She said rules that banned volunteers from handing out how-to vote cards and other election material within 100 metres of polling stations and pre-poll venues sparked confusion and were not uniformly enforced.
"It's been horrible for the volunteers to deal with different rules at different booths. Voters are used to holding materials."
Cr Vithoulkas, who cast a postal vote this year, and said it was difficult to guess the outcome of the elections.
"My volunteers are telling me it's different for me this year. You just don't know."
Good afternoon and thank you for reading our live coverage of the long-awaited 2021 local government elections, which were delayed by more than a year owing to the COVID-19 pandemic.
If you're just joining us now, here's a rundown of the process:
Nearly five million voters in NSW are heading to the polls to decide their preferred councillors and mayors in 124 of the state's 128 councils. Among the most prominent electoral battles is the fight for the City of Sydney lord mayoralty. Incumbent Clover Moore is the favourite to retain the top job but she has five rivals, all of whom are women this year.
If you haven't already voted, now is the time. In-person polling booths at schools, town halls, community centres and churches across the state close at 6pm. Voting is compulsory and those who don't vote face a $55 fine.
Most residents are voting for new councillors, but voters in 35 local government areas will also vote for their preferred mayor.
As a result of COVID-related delays, existing councillors have served one year on top of their usual four-year term. Councillors elected this year will serve a shortened, three-year term before ratepayers head to the polls again in September 2024.
Vote counting will start after the polls close at 6pm and continue for the next couple of weeks. The deadline for postal votes to be received by the NSW Electoral Commission is December 17. That means the final makeup of councils – and in some cases, who controls them – will not be known until the week before Christmas.
Former Liberal mayor Ned Mannoun is none too fussed about five of his campaign signs being smeared in horse manure.
"S--- happens," he said late on Saturday when asked about the damage to his signs.
While it is a five-candidate contest for the Liverpool mayoralty in Sydney's south-west, it appears to be a two-horse race between Mr Mannoun - often described as the Liberals' face in western Sydney - and Labor councillor Nathan Hagarty.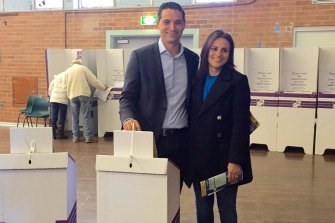 With the race nearly into its final hour, Mr Mannoun said he believed the contest with his Labor rival would be close.
"It will be close, that is all I can say. We are just in the middle of a marathon and we just keep going," he said.
Mr Hagarty also reckoned it would be a close, and there was a chance that the outcome for the popularly elected mayor might not be known tonight. That's despite what Mr Hagarty described as the "world's longest election campaign".
Incumbent mayor Wendy Waller is not recontesting this election in one of Sydney's most populous local government areas.
Federal Labor MP Tanya Plibersek, the former deputy opposition leader, has lent her support to Linda Scott's bid to unseat Clover Moore as lord mayor of the City of Sydney.
Despite a chaotic final sitting fortnight in Canberra, the member for Sydney said she wouldn't be anywhere else.
"I'm delighted to be able to support Linda's campaign because she's talking about issues that really matter: the future of our city, the future of our community.
"Just here while we were waiting to vote, one of the residents was talking about the privatisation of garbage and the drop-in service as a result of that.
"Those bread and butter issues are absolutely critical to this election and to the community that I'm part of, and I wouldn't be anywhere else today," she said.
Rather than feeling stretched from one level of government to the other, the shadow minister for education and women said she loved being in her electorate and her community.
As noted earlier in the blog, Moore is the lead contender in a field of six women vying for the lord mayoralty. Commentators believe she is likely to extend her 17-year reign for another three years.
Towering beside Cr Scott was Labor candidate and former NRL player Ian Roberts, who is seeking election as a City of Sydney councillor.
His sixth-place position on the Labor ticket might have had something to do with his relaxed demeanour. If nothing else, he can lend his support to the lead candidate.
"I'm really confident for Linda, we have a really good chance of getting another candidate in there," he said.
The former State of Origin player, who in 1995 was the first rugby league player to come out as gay, these days also counts actor and activist among his titles.
"Whatever minor profile I have, if it helps ..." he said.
On Sydney's north shore, residents have been casting their votes in today's local government elections with relative ease despite the new safety procedures in place.
In fact, one North Sydney voter said the process was comparable to an election before COVID-19, with the queues short and voting easy.
Candidates for North Sydney's St Leonards and Cammeraygal wards lined the footpaths and entrances around local schools and community centres, with COVID-19 recovery and greater public amenity atop the issues forming voting patterns.
Incumbent North Sydney mayor, independent Jilly Gibson, has promised a revitalised North Sydney CBD economy and greater public amenity.
Labor's Shannon Welch and Godfrey Santer, who are running for election as councillors, have both campaigned for stronger accountability and transparency on council, and to confront growing traffic congestion and pollution near the Warringah Freeway and the proposed Beaches Link tunnel.
Hugh Elliott, a 59-year-old Cremorne resident, said a "high standard of the community, well-kept gardens and the general feel" of North Sydney were the highest priorities when casting his vote, adding that "controlled development" was supported, but not at the expense of the area's village atmosphere.
As we've noted earlier in the blog, the council elections today cover 124 of the state's 128 local government areas (LGAs). Councillors will be elected in each of those LGAs, but voters covered by 35 councils will also be asked to vote for a mayoral candidate. North Sydney is not one of the LGAs where a mayoral vote is also being held.
Canterbury-Bankstown mayor Khal Asfour has been at Greenacre Baptist Church since 8am and is "quietly confident" he'll keep it a Labor-controlled council.
"A lot of people are thanking me for standing up for them during lockdown. It's really been positive today," said Cr Asfour, who was a prominent advocate for residents, who were subjected to harsher restrictions than people in Sydney's east and north during the COVID-19 lockdown.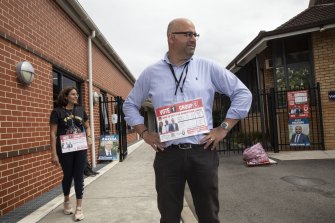 Cr Asfour has been campaigning on that advocacy, as well as his record while mayor.
Meanwhile, Cumberland mayor Steve Christou – who was increasingly critical of government measures against his ratepayers – said he has also been receiving positive feedback from that time.
"A lot of people are saying 'we got you, you advocated for us', but you don't know until the numbers come in," he said.
The Liberals' Shauna Jarrett is also seeking to unseat Clover Moore as City of Sydney lord mayor in today's local government elections, but she is pragmatic about the challenge ahead.
"People want to change but they don't know who to change to," she said on Saturday. "There's such an incumbent image there and regime – it's going to need a bit of time."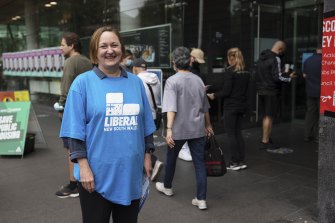 Speaking at a polling station in Surry Hills, Ms Jarrett said she was "pragmatic" about the likely return of Cr Moore to the mayoralty as COVID-19 had meant people had not had time to think about much other than surviving the pandemic.
"People have been locked up for the last two years," she said.
However, she said her Liberal team could secure two or three seats on the City of Sydney council, allowing them to work over the next three years to "raise the fact that there are alternatives to [Cr Moore] and her so-called independent team".
Labor's Linda Scott is one of six women, including long-time incumbent Clover Moore, vying to be the City of Sydney's next lord mayor in today's local government elections.
She was greeting voters at the gates of Erskineville Public School earlier today.
"Labor's always the underdog on the night, [but] I'll be excited to see the results rolling in," she said.
Councillor Scott said people had been receptive to change over the past few weeks of door-knocking: "People appreciate what the lord mayor Clover Moore has done in the past, but in this election they're looking for new, progressive leadership."
Labor is campaigning on policies to combat climate change, including reducing emissions, increasing canopy cover and creating more green space, upgrade Oxford Street to highlight its LGBTQ history, and push for more reliable rubbish collection.
"People want a lord mayor who's a workhorse, not a show pony," she said.
Clover Moore remains the favourite to win and has been the City of Sydney lord mayor for 17 years. She is a former teacher and state MP who was elected to the city's council in 2004. Moore, an independent, is seeking to extend her grip on power at Town Hall to two decades by running for a historic fifth term.