Sydney lord mayor Clover Moore 'optimistic' as NSW voters go to the polls
Clover Moore says she's not taking anything for granted in her fight to return as Sydney's lord mayor, as nearly 5 million voters go to the polls in council elections across NSW.
Normal text sizeLarger text sizeVery large text size
Sydney's lord mayor of 17 years, Clover Moore, says she feels optimistic she will secure a historic fifth term as nearly 5 million voters go to the polls in local council elections across NSW.
Residents of 124 local government areas are selecting their preferred councillors and, in some cases, their mayor, on Saturday after the elections across the state were delayed twice due to the COVID-19 pandemic.
One of the most hotly contested battles is the lord mayoral race at the City of Sydney, where an all-female field of five candidates is challenging Cr Moore for the keys to Town Hall.
Cr Moore – who cast her vote online using the iVote platform – visited a booth at Surry Hills Library on Saturday and said she was not taking "anything for granted" due to the challenges thrown up by the COVID-19 pandemic.
"There's a very positive feel about the day, and I'm feeling quite optimistic," she said.
Cr Moore and her team held five seats on the 10-person council in the last term, and she said she was "hopeful for a majority".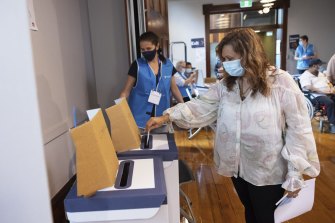 Earlier, City of Sydney lord mayoral candidate Yvonne Weldon arrived at Glebe Town Hall to cast her vote and begin her final day on the hustings at 8am. She plans to visit all 41 polling booths throughout the city.
"Nervous, definitely nervous," Ms Weldon said when asked how she felt.
Ms Weldon, a Wiradjuri woman, is the first Aboriginal candidate for Sydney lord mayor.
"I'm hoping to beat her," Ms Weldon said, referring to Cr Moore. "I'm hoping to change the composition of the council and the lack of representation."
Labor's lord mayoral candidate Linda Scott, who is a City of Sydney councillor, greeted voters at the gates of Erskineville Public School.
"Labor's always the underdog on the night, [but] I'll be excited to see the results rolling in," she says.
She spent the past few weeks door-knocking residents, and said they seemed receptive to a change of leadership.
"People appreciate what the lord mayor, Clover Moore, has done in the past, but in this election they're looking for new, progressive leadership."
Liberal lord mayoral candidate Shauna Jarrett said at a polling station in Surry Hills that she was "pragmatic" about the likely return of Cr Moore to the mayoralty, as most voters had been focused surviving the pandemic. "People have been locked up for the last two years."
She said her Liberal team could secure two or three seats on the council, allowing them to work over the next three years to "raise the fact that there are alternatives to [Cr Moore] and her so-called independent team".
Councillor and small business advocate Angela Vithoulkas and Greens candidate Sylvie Ellsmore are also in the race to defeat Cr Moore – or at least loosen the grip Moore's team has on the council.
COVID-19 triggered numerous changes to campaigning and election day this year. Voters were encouraged to vote early, by post, or via the online and telephone voting platform iVote, to reduce crowding at polling booths. Those who voted in-person were required to check in and wear masks.
The restrictions still mostly allowed for traditional election day sausage sizzles and cake stalls. Erskineville Public School P&C president Kristy Barker began setting up stalls at 6am to peddle sausage sandwiches, bacon and egg rolls, homemade lemonade, cakes, jams, crafts and Christmas hampers to voters.
"Our time during lockdown wasn't wasted," Ms Barker said.
The iVote platform on the NSW Electoral Commission's website crashed for a couple of hours on Saturday morning but was up and running again by about 11am.
Volunteers were not allowed to distribute how-to-vote cards within 100 metres of polling booths – although many candidates campaigning at pre-polling venues this week said those rules were not uniformly applied.
More than 22 per cent of eligible voters – or 1.053 million people – cast their ballot at polling stations across NSW before Saturday.
There has been speculation restrictions on campaigning due to COVID-19, and the most recent lockdown, could favour incumbents and the maor political parties.
The Morning Edition newsletter is our guide to the day's most important and interesting stories, analysis and insights. Sign up here.