Wolves vs Liverpool LIVE: Premier League result, final score and reaction today
Follow all the latest updates from the Premier League match at Molineux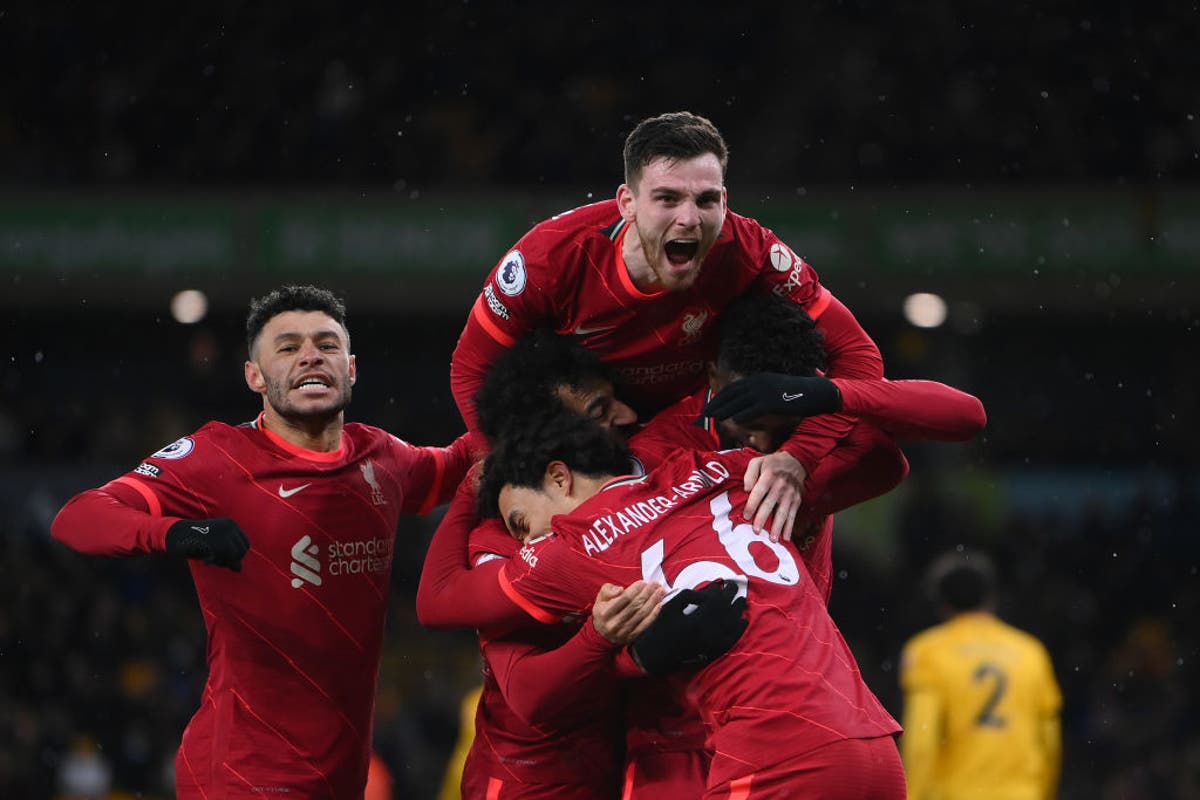 Klopp on Liverpool's trip to Wolves
It will not be Divock Origi's most famous goal as a replacement. Given his status as Liverpool's 21st-century David Fairclough and his strike in a Champions League final, how could it be? But when that strangest of scorelines for them seemed to beckon – 0-0 – he transformed a draw into a victory in the 94th minute. The super-sub struck again and Wolves' doggedness earned them only a statistical distinction, not a point.
Even on a day when Mohamed Salah did not score, he created, finding the replacement with a low cross. Origi span, shot and scored his second league goal of the season. For Liverpool, it made it 29 consecutive games with at least one goal. Wolves looked set to emulate Real Madrid, the previous team to keep a clean sheet against them. Instead they can reflect that they are the only opponents in the last 19 Liverpool matches not to have conceded at least twice.
Wolves' resistance seemed set to earn them a hat-trick of 0-0 draws. They were personified by Conor Coady, a Liverpool fan who came through the Anfield academy, and who marked his 250th Wolves appearance with a remarkable intervention, even if it reflected badly on another who has represented both clubs. When Jose Sa came off his line and collided with Romain Saiss, he sent Diogo Jota scampering in behind, with only a defence that lacked a goalkeeper to beat. Instead he blasted his shot against Coady, who had retreated to the goal line.
It was a remarkable reprieve but not the only example of defensive heroics. Saiss executed a brilliant challenge on Salah when he seemed set to tap in Andy Robertson's enticing low cross. Leander Dendoncker hacked a Jota header away when it promised to trouble Sa. The goalkeeper came swiftly off his line to block Sadio Mane's effort and, in the closing minutes, reacted wonderfully well to tip the Senegalese's shot over the bar. For good measure, Sa saved Salah's 90th-minute shot. It appeared to have secured a point, but Origi thought otherwise.
Follow all the reaction and updates from Watford vs Man City below.
Wolves vs Liverpool
Match kicks off at 3pm GMT
Wolves: Sa, Kilman, Coady, Saiss, Semedo, Neves, Dendoncker, Ait Nouri, Adama, Jimenez, Hwang
Liverpool: Alisson, Alexander-Arnold, Matip, Van Dijk, Robertson, Fabinho, Henderson, Thiago, Salah, Jota, Mane
90' - Origi nets last-gasp winner to send Reds top
Show latest update
1638640544
Watford 0-1 Man City
24 mins: Grealish has another two shots, he's hungry for a goal today isn't he! Another great save from Bachmann keeps his side in the match with the other shot sailing over the bar.
Four shots for the English star so far which is the most he's had in a single match for City since signing in the summer.
Sarah Rendell4 December 2021 17:55
1638640273
Watford 0-1 Man City
19 mins: There's been more promise from the hosts.
Dennis had a shot at goal but Ederson collected it at the near post. Watford have settled since the early goal and have shaken the stunned affect from it.
Of course City are still creating opportunities but the defence doesn't have the desperate chaotic edge it had in the early stages.
Sarah Rendell4 December 2021 17:51
1638640029
Watford 0-1 Man City
15 mins: Watford patched some attack with Dennis just outmuscled by City in the box.
The hosts had more go forward but City manage to get the ball back with Foden hitting the deck from a challenge by Cleverley. The Watford man visibly angry as he believes Foden dove.
Sarah Rendell4 December 2021 17:47
1638639753
Watford 0-1 Man City
11 mins: Chance! Grealish almost got a goal but Bachmann does well again to stop it.
Watford are scrambling after the early goal and they still haven't had sustained possession.
Sarah Rendell4 December 2021 17:42
1638639633
Watford 0-1 Man City
9 mins: The ball was kicked off in the sixth minute to pay tribute to six-year-old Arthur Labinjo-Hughes, the crowd standing in applause.
Shortly before, King was booked for a challenge.
Sterling almost doubled City's lead but Bachmann made a great save but conceded a corner. It ended with another corner which Grealish got a head to, the keeper saving again. Rose again out of position.
Sarah Rendell4 December 2021 17:40
1638639431
Watford 0-1 Man City
5 mins: Before that goal the first corner of the game went City's way as Watford repelled early attack.
Laporte got a head to the ball with Pedro saving the hosts, a nervous opening few minutes and the pressure didn't let up.
Watford have had hardly any possession and now they've conceded it could be an embarrassing result.
Sarah Rendell4 December 2021 17:37
1638639342
GOAL Watford 0-1 Man City (STERLING 4)
Foden crosses the ball in and Rose is out of position so Sterling can easily head the ball in. This could be a long evening for Ranieri.
Sarah Rendell4 December 2021 17:35
1638639081
Watford 0-0 Man City
We are underway at Vicarage Road.
Manchester City will look to go top and Watford will want to extend the gap from the relegation zone.
Sarah Rendell4 December 2021 17:31
1638638758
Watford vs Man City
The match will conclude Saturday's Premier League action which has seen some surprising results.
Newcastle won their first match of the season with a 1-0 victory over Burnley, Liverpool snatched a last minute win over Wolves, West Ham stunned Chelsea 3-2 and Southampton drew 1-1 with Brighton.
How will the last game shake out? Action gets underway in five minutes.
Sarah Rendell4 December 2021 17:25
1638638364
Watford vs Man City
Watford have never beaten Manchester City in the Premier League but will they change their fortunes this evening?
It will be a difficult task as Guardiola's team will be aiming for the top of the Premier League. However, Ranieri has spoken confidently ahead of the match.
He told Sky Sports: "Our philosophy is good we just need points... We are ready, we are ready."
Sarah Rendell4 December 2021 17:19